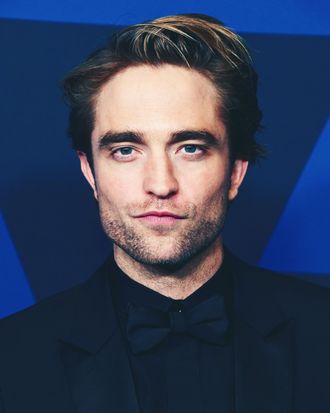 Robert Pattinson
Photo: Steve Granitz/WireImage
Bad news: Among the 26 million–plus coronavirus cases worldwide is critically acclaimed actor and pioneering pasta sensation Robert Pattinson.
Just three days after Warner Bros. resumed filming on The Batman in London, which had previously been halted to mitigate the spread of COVID-19, the company announced in a statement that "a member of The Batman production has tested positive for Covid-19." While Warner Bros. didn't reveal the identity of the person, Vanity Fair confirmed through a number of "highly placed sources" that Batman himself — a.k.a. Robert Pattinson — has contracted the coronavirus. (Deadline also confirmed the news.) Now, the company has yet again put a temporary pause on production while Pattinson isolates "in accordance with established protocols."
At this point, it's unclear when he tested positive, or how serious of a case he has, or whether any others whom he worked alongside have subsequently fallen ill. Similarly, Warner Bros. has not yet signaled when it intends to resume filming for Matt Reeves's The Batman.
Though I do not claim to be a public-health expert, I'm left wondering whether it's advisable to restart inessential operations that require crowds of people to be inside the same room, but who am I to say? At the end of the day, I simply hope that Pattinson suffers a mild case and that he can use this imposed alone time to create some more unholy handheld-pasta creations and maybe reemerge with an asymmetrical fringe haircut he gave himself.