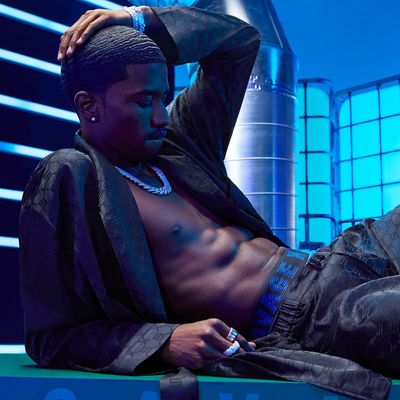 Photo: Courtesy of Savage X Fenty
Is there no limit to Rihanna's generosity? Our pope gives and she gives and she gives. This summer, she gave us a skin-care line. Last week, she gave us the good news that the fun, sexy, star-studded fashion show "Savage X Fenty Show Vol. 2" will be available to stream on October 2. And this week, Rihanna gave us abs.
On Thursday, Rihanna's lingerie line, Savage X Fenty, announced it was launching a menswear capsule collection in collaboration with Christian Combs, the 22-year-old model, rapper, and son of Diddy. The announcement came with pictures of Combs lounging in Savage X Fenty boxers and a silk pajama set, with abs that look like they might slice through even the sturdiest sweater.
"I wanted to create menswear styles that everyone can wear," Rihanna said in a press release. "And after Christian did such a great job at the 2019 fashion show wearing men's, I knew we had to have him as a collaborator."
Combs says it was his idea to add more color to the line, which includes boxer briefs, satin pants, and an oversize smoking jacket. Per GQ: "Swag doesn't come in grayscale, so Savage X Fenty underwear arrives in blue and silky red. Even many of the more conservatively colored pieces in black come with pops of bubblegum pink."
Combs added that he had already worn the pajama set out in public in Beverly Hills and gotten a few compliments on it, "so it's okay to wear outside the house, too!" (And truly, is there anything better than a good party pajama?)
The menswear line will be available on the Savage X Fenty website starting October 2, the same day the fashion show drops. For all of these riches, we say thank you, Rihanna. We're not worthy, but we appreciate it.