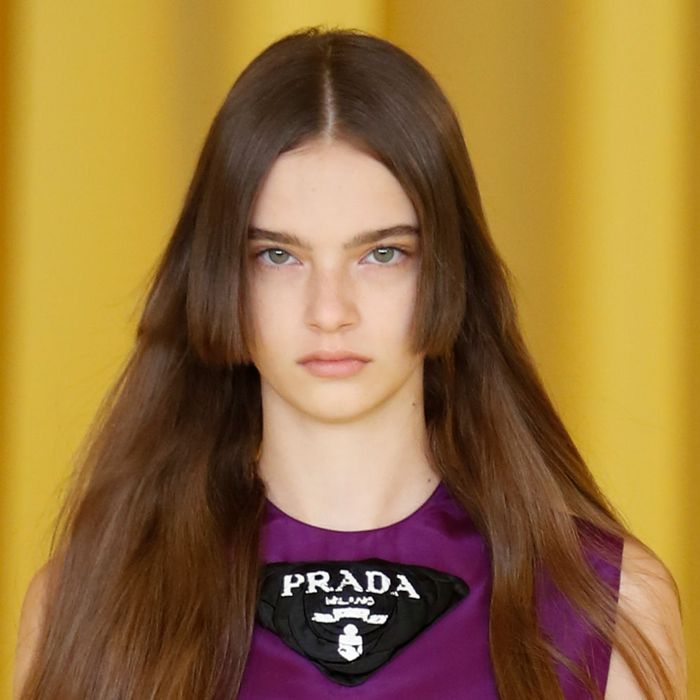 The deeply strange bangs of summer 2019 are back! Yes, this has happened before, but now they've returned with a vengeance thanks to the Prada spring 2021 show and Guido Palau.
In this morning's virtual show, the majority of models had their foreheads accentuated with heavy hair curtains. Some had black-out drapes — bangs extending entirely over the eyes. Others had their drapes pulled back — a.k.a. parted in the middle, with bangs extending halfway down the face. Some African American models wore their natural hair; others had their hair braided into what looked like Passion twists, with a few pieces dangling in the front of their faces. Models without bangs had their hair styled into an androgynous-looking chin-length style, with natural texture and slightly flippy ends.
Paired with the turtlenecks and tops with holes, the overall look was sort of … apocalyptic? Maybe? Who can ever be sure with Miuccia Prada (or Raf Simons, who co-creative directed this collection)? We know she's too wise for post-pandemic predictions, but hear me out: in an apocalyptic future, we might not have heat tools or curling irons. We definitely won't have beach waves. Maybe we will only have the tools to give ourselves home-grown haircuts or blunt bangs. The reduced-visibility bangs could even shield us from the horror of what is outside, although maybe that's a little dark. The point is, weird hair is here to stay.