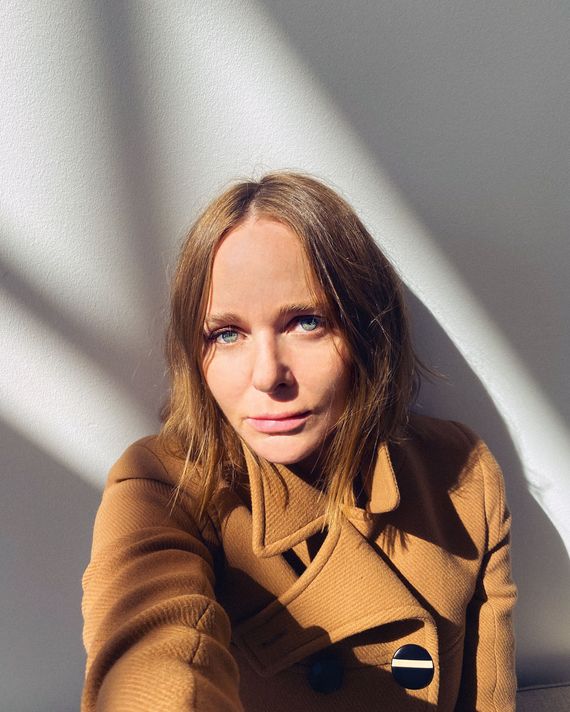 Photo: Christopher Anderson/Magnum for New York Magazine
"I'm literally in any fucking room where I can get Wi-Fi. It's the comedy of life here," Stella McCartney told me in June. She spent the lockdown with her husband and their four children at their country home in Wiltshire. "It's very scary for everyone. Business is affected dramatically."
In early February, the Boston-based management consultancy Bain & Co. identified sustainability and social responsibility as ideas strengthened by the pandemic and advised luxury brands to take action. This is not news to McCartney. She is the leader in sustainable and traceable fashion, a path she took when she founded her company in London in 2001 and that she has imaginatively widened in the past decade to include garments made from recycled bottles, fishing net, even spider-spun silk. Last year, McCartney sold a minority stake in her brand to LVMH and became a special adviser to chairman Bernard Arnault on ways for the luxury group to reduce its carbon footprint.
"We're looking at the world today as more uncertain than ever, and obviously I have this bittersweet moment — I have a full day ahead of me, like I would if I was just normally at work, and yet I'm not in the city. I have time to do things I wouldn't normally do. It has a very interesting, double-edged quality," she said. She's not sure when or how she will go back to an office, but she acknowledged the whole mess has taken a financial hit on everybody in her business. Eighty percent of her employees are women, many of them mothers, and with kids out of school, she's asking the obvious questions. There's a fair amount of wondering, "How do we manage this in a way that we can actually do our jobs?"
Ethical consumption—from the environment to inequality—was already a high priority for her company, but the pandemic has accelerated that conversation for millennial consumers. McCartney may be well poised to talk to that trend. She thinks so, albeit tentatively. "None of us saw this coming. I am driven by a belief system that will be better for all of us on Earth, if we can try to have better business models that slightly mirror what I'm trying to do with the Stella McCartney brand. It will help not only the planet but the creatures that we inhabit it with, and that is weirdly at the core of this whole frickin' virus."
Meanwhile, the situation with her suppliers changes daily. It sounds as though there's almost no routine: "When you work in a sustainable way in any industry, you have to be so much more ahead with timing. I have to work three or four years in advance to source sustainable viscose, for example."
That makes it hard to plan for a spring collection that needed to be produced while the world went into various states of lockdown. But McCartney was, typically, ahead of the curve. "I started with the new collection before the show in March and, funnily enough, I had already said to my team, 'I don't want to order any fabrics this season. I actually want to use what we have in the warehouse.' "
Many designers see the pandemic as an opportunity for a collective reset, to slow down. Yet others are skeptical of whether that can happen. McCartney insisted otherwise at first. "Our industry should be at the forefront of change. I said before the covid-19 situation that we've relied far too long on a sourcing platform that's hundreds of years old. We need to shift. That goes for everything — how you present a collection, how you price it, how you work with the people who make that collection visible, how you sell it. Everything is up for grabs right now."
Later, when I asked her about the future of Fashion Week, she was less certain. "The fear for me is that it really, really won't go away." She laughed. "We'll just be right back in it."
In July, when we spoke, McCartney was just venturing into the world of London, feeling strange to be back. "I went to a restaurant the other night for the first time in months," she told me. "I actually saw Phoebe [Philo]. But half the people, I was like, I know that person. I couldn't remember names. It was so bizarre."
I asked what her reaction has been to the Black Lives Matter protests and to the industry's reckoning with racism. Before, many in the industry thought it was being inclusive.
"What I've really taken away from it, and what your question in a way highlights, is white privilege. I'm just not wired that way. I've been very lucky to have been brought up in a household where — you know, "Ebony and Ivory" [referring to the Paul McCartney–Stevie Wonder song]. I don't understand racism. But I feel strongly that I haven't possibly been aware of white privilege. I could say, 'Yeah, fashion is good. I have loads of Black people in my campaigns and in my shows. I feel very comfortable with my track record and my behavior as a brand.' But I am color blind in that respect. Racism is everywhere, it's shameful. But, for me, the big thing that has come out is white privilege and the fact that we stand slightly bewildered at what's happening — because we are privileged. You start to look at the problem more actively from the other side."
"Any more you can tell me about your spring collection?"
"I really reduced it and I made every single piece a precious thing and every piece has a word associated with it. I did an alphabet, A to Z, of what's really important to me and why I do what I do. A is for accountability.
"The question more than ever is 'What is luxury?' It's certainly not a bloody crocodile handbag, I can tell you that much. For me, luxury is having a healthy planet and making the right choices, being conscious of your place on the planet. It's not a fashion question. This is a lifestyle question. The big brands are going to have to stand up and pay attention, and certainly they've seen that at Kering. And I know now from Mr. Arnault and working with the LVMH group that the investment they have shown with me absolutely supports that. They're not stupid; they know this is an area where they can do better, and they want to. Also, these are big ships and it takes time to turn them from the iceberg. And I'm an agile little pirate ship."
*A version of this article appears in the August 31, 2020, issue of New York Magazine. Subscribe Now!