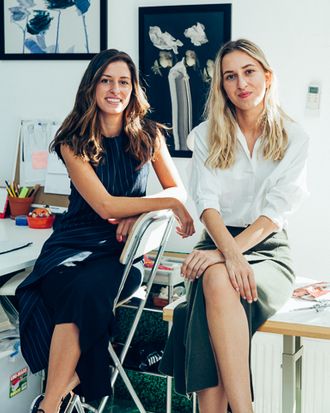 Stephanie and Nafsika Skourti.
Photo: Courtesy of Nafsika Skourti/Copyright: Amer Sweidan
"Where are you from?" can be a loaded question, but Nafsika Skourti isn't afraid to answer it. She might even respond, as she did for fall-winter 2018, in the form of an entire collection — which, like everything she does, was sexy, kitschy, and thoughtful. One of the pieces in that collection was the Jerusalem jacket, a denim design that used symbols from her Greek, Palestinian, and Jordanian origins. It was acquired by the Victoria and Albert Museum in London last year and now lives in its permanent Middle East collection.
Skourti, a graduate of Central Saint Martins trained in haute-couture embroidery, founded her eponymous womenswear brand in Amman, Jordan, just over five years ago with her sister Stephanie, who quit a job at Goldman Sachs to pursue fashion. Since then, they've used clothing to tell their story, with social observations and political commentary thrown in the mix. Their fall 2020 collection explores their Palestinian heritage through old photos of their mother, a very personal and emotional experience. We spoke with Skourti about her style, ugly jeans, and speaking up.
How would you describe your style?
My style is 20 percent vintage, 10 percent dude, 10 percent tailoring, 10 percent beanbag, 10 percent Paris Hilton, 10 percent sparkle, 10 percent camp, 10 percent Rothko, and 10 percent exhibitionist. Sounds like much, but it's pretty subtle, I swear.
How do you thank someone for a gift?
I recently bought really nice cotton-paper stationery from Paris, so I jump at any opportunity to use it. I think a thoughtful note goes a long way. I will also forever be on the lookout for something that I can get them in return.
What would you never wear?
There is such a thing as the wrong jeans. Nothing looks more dated than the wrong wash, cut, or detailing.
What's your dream vacation?
I'm dying to go to Korea. The dream would be to have someone help plan it for me.
What's a good book on your coffee table right now?
Exactitudes, by Ari Versluis and Ellie Uyttenbroek. It's basically cultural anthropology — a fantastic photographic study of modern-day tribes and subcultures. The most interesting for me are the people who aren't trying to say anything, the "normal" ones, because it makes you realize that it's impossible to NOT say something with what you wear. It also visually illustrates the very close correlated relationship between clothes and lifestyles.
Last show you binge-watched?
It's not really a show, but the "Open Door" series on Architectural Digest. I just love seeing people's houses.
Secret to hosting a good party?
Great music! Bad music is the cancer of parties.
What is a trend that you like right now?
Speaking up.
One you don't understand?
Really long nails. I actually don't understand how you can function.
Favorite restaurant in New York?
King Restaurant.
Shoes you wear most often?
Square-toed ankle boots.
What's your favorite …
Pajamas?
I steal my husband's old T-shirts. The older the better.
Candle?
17 The First Morning of Spring from Lola James Harper.
Scent?
I've been wearing Penhaligon's Juniper Sling since it came out.
Socks?
Tabio Bulky Room Socks.
T-shirt?
Still looking.
What are three photos that define your style?
This is very me. Black is a big mood, and we did this heart chain belt before chain belts became a thing. I bought these shoes from a secondhand market in Amman — one of my best buys.
Tailoring, pinstripes, and bling: my holy trinity.
I really believe in versatile eveningwear separates, because I really believe that we need to give women the freedom to style because styling is everything. Wearing the Royal Regina top here with big earrings. That's another thing I believe in: statement jewelry. The bigger the better.
Shop the Story
If you buy something through our links, New York may earn an affiliate commission.