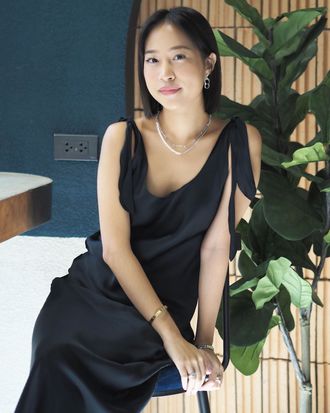 Pattaraphan "Nok" Salirathavibhaga might run a global brand, but her jewelry is full of New York City edge. Her eponymous jewelry line, Pattaraphan, is influenced by her many travels but always carries the soul of her Thai roots.
Nok says that she's felt like the black sheep of the family since she was young but found peace and a place in the creative world. She ended up studying jewelry design at Pratt and started her jewelry brand in 2018, working with local artisans in Thailand. Her first collection, "Pressure," included soda-tab necklaces and earrings, architectural ear cuffs, and edgy chain-link necklaces. "Tusk," her second and most recent collection, was inspired by the beauty of elephants, Thailand's national animal, but also the violence they experience.
Nok's jewelry is already a favorite of Gigi and Bella Hadid. We spoke to her about Champagne, her love for vintage, and where to find delicious soba in New York City.
What's one piece you've designed that's especially meaningful to you?
The subtly rebellious Ele Ear Cuff, from the Tusk collection, quickly became a best seller. We get many comments from customers about how they didn't expect such a modern, edgy piece from something inspired by our own national animal, the elephant. Especially for Thai people, traditional icons aren't associated with contemporary designs, and they now have new perspectives on elephants and possibly our culture.
How do you thank someone for a gift?
I usually send a thank-you note, and I will always, always, always find an occasion to buy that person a gift as a thank-you. I love gifts, and I love getting people gifts!
What would you never wear?
Cheetah prints.
What's your dream vacation?
I went to Tanzania with my school, and luckily the trip fell on my 18th birthday. I'll never forget that trip, and I want to relive it again as an adult.
What's a good book on your coffee table right now?
Liaigre 12 Projects. I'm a sucker for beautiful interior design and photography. Put them in black-and-white as a cover, and I'm sold.
What's your guilty pleasure?
'90s Thai love songs.
Secret to hosting a good party?
Champagne. Lots of Champagne.
What is a trend that you like right now?
Vintage! I hope it's still a thing. We don't always need new things.
Favorite restaurant in New York?
Rintintin. I've always had the best times there. And Cocoron for simply delicious wholesome soba dishes.
What's the one thing you could eat every day for the rest of your life?
Kai Jeaw (Thai fried omelette).
Shoes you wear most often?
Vans Old Skools, if I'm not in my flip-flops.
What are three inanimate objects that bring you joy?
"I started using this when I was living in New York, and I'm still using it every day. It was the only hand cream that worked wonders during the winter and the scent is divine. It reminded me of the spas in Thailand. I used to have trouble sleeping, and this smell somehow helped put me to sleep!"
"I just love candles. I think they just make the room and your mood so much better. I have a few favorites, but nothing beats this scent from Diptyque."
"This was my first film camera. Ever since I bought it this time last year, I've been taking it everywhere with me. It has gone on six trips with me already and captured so many memories — some even for Pattaraphan. It's super-easy to use, and I can't wait to continue capturing more memories with this camera!"