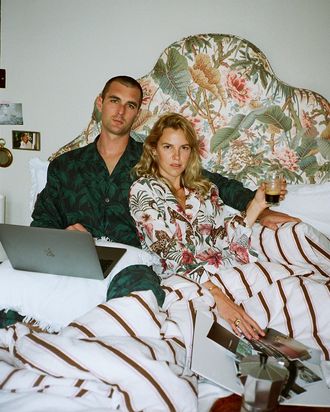 Joel Jeffery and Molly Goddard
Photo: Courtesy of Desmond & Dempsey
For husband-and-wife duo Molly Goddard and Joel Jeffery, Sunday has a certain significance. It's the day they first Skyped from opposite sides of the globe (Molly in Australia and Joel in England) after meeting in Canada, and it's from lazy Sundays that their pajama brand, Desmond & Dempsey was born.
Neither of the co-founders ever really planned to start a company, let alone a line of luxurious pajamas. The idea sparked naturally. A girl wearing her boyfriend's shirt is a classic move. It's what Molly usually did until Joel, after one too many spilled coffees, encouraged her to treat herself to her own nice pj's. But Molly couldn't find ones she liked, so the two created Desmond & Dempsey — pajamas made of premium-quality cotton with prints that are hand-painted in London and inspired by their adventures. We spoke with Molly (who is, by the way, not this Molly) and Joel about traveling the world, why it's not always a good idea to wear a body-con dress, and the best pajamas.
How would you describe your style? How is it different from your clothing line? 
Molly Goddard: Very easy and very Aussie, but I like to think I am picking up a little British eccentricity. Desmond & Dempsey pajamas are bold and printed and have a really handsome edge. I lean towards a little more (Joel would say wannabe) hippie. I also own a lot of white, which we don't really have in our collections.
Joel Jeffery: Navy. I don't wear much print day-to-day and have to force myself not to buy everything in navy, white, or black. I've branched out this year and gotten a lot of olive green, which is a big deal. I'm most comfortable in shorts, a T-shirt, and a good jacket with plenty of pockets.
How do you thank someone for a gift?
M: I always write a card that I forget to send. So then I thank them two weeks late with a phone call or text in capital letters.
J: With a great GIF.
What would you never wear? 
M: A body-con dress. Got to have room for pudding!
J: A white suit.
What's your dream vacation?
M: A Safari in Africa, with a beach at the end.
J: Snowboarding in Japan.
What's a good book on your coffee table right now? 
M: The newest is May I Come In by Wendy Goodman, and the one I am always looking at is a Peter Beard book.
J: The Selby Is in Your Place — an oldie but a goodie.
Last show you binge-watched?
M: Always bingeing on Grey's Anatomy. It's my greatest guiltiest pleasure.
J: Truth Be Told on Apple TV.
Secret to hosting a good party?
M: "September" by Earth, Wind & Fire.
J: Not having to leave to get more food or drink.
What is a trend that you like right now?
M: '70s-style dresses.
J: Outdoors.
One you don't understand?
M: This '90s thing. Maybe it's just because I can't pull it off.
J: Love Island.
Favorite restaurant in New York?
M: Cafe Colette in Brooklyn.
J: Ditto. We've had so many good times there.
Shoes you wear most often?
M: Converse in the winter. Little Mallorcan Avarcas in the summer.
J: Reebok Classics or Converse.
What's your favorite … 
Pajamas?
M: Our Deia Signature Set. It's also probably the safest and prettiest in our collection, but one of our first and holds lots of memories for me.
J: Our Byron Cuban Shirt & Shorts.
Socks?
M: D&D's Howie!
J: Anonymous Ism.
T-shirt?
M: My Palace Band Shirt that has paint stains all over it.
J: Fresh white Uniqlo tee.
Can you share photos of yourself that define your style? 
M: I have two looks: hippie and colorful while traveling, and then handsome and easy in London.
J: In India on a photo shoot. Wearing a good jacket with plenty of pockets and outside in plenty of space — my happy place.
M: I live in Joel's shirts and jeans!
J: My meeting uniform: white shirt, navy chinos, and Converse.
What is your favorite place in your studio/office/home?
M: We moved into a studio this year with DOORS on a meeting room. It was kind of a big deal for us. I love our "meeting room." Two of the walls are covered in windows, and there is a disco ball that shines through and makes the meeting room feel like a daytime disco. The third wall has our year mapped out, which is as exciting as it terrifying, and the last wall has DOORS.
J: In our office we have a great daybed, which we upholstered with fabric we had woven as part of a collaboration in Marrakech.
Shop the Story