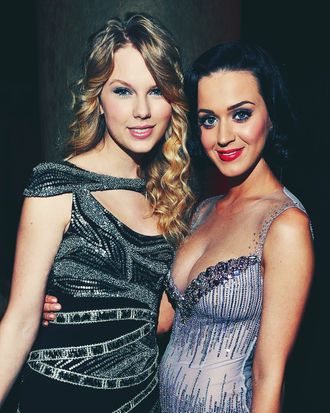 Taylor Swift and Katy Perry.
Photo: Larry Busacca/WireImage
Taylor Swift and Katy Perry are friends. This is nice because for years they were not friends. Their feud was very boring because it was about business (Taylor Swift took some of Katy Perry's dancers for her Red tour and then Katy Perry took the dancers back for her Prismatic World tour — or something. I don't know. I briefly fell asleep typing that sentence.) But it's simultaneously very interesting because the two proceeded to talk trash about each other in interviews and songs for the next five years. Then, in 2018, Perry extended a literal olive branch to Swift. The year after that, Swift invited Perry to be in the music video for her single "You Need to Calm Down," in which the two hugged in burger and fries costumes (what Swift called the ideal "metaphor for two people who belong together"). Anyway, the point is that they didn't used to be friends, but now they are friends — who "text a lot," according to Perry — and, as a nice friend, Swift recently sent Perry a hand-embroidered blanket for Daisy Dove, Perry's new baby with fiancé Orlando Bloom. Sweet!
In an Instagram post on Sunday night, Perry shared a picture of the small, pink silk blanket that Swift sent, which is embroidered with stars and a red flower with the words "Baby Bloom" in cursive above it. "Miss [emojis for 'Daisy' and 'Dove'] adores her hand embroidered blankie from miss @taylorswift," Perry wrote. "Hope it's one she drags around for years till it becomes an unrecognizable shred that she keeps in her pocket as a teenager."
Perry tagged the location of her post as "Stream Folklore" — a reference to Swift's latest album, folklore, which she released in July.
The picture also shows the accompanying note Swift sent with the blanket, and that was addressed to "Katy and Orlando (and little one)." The note is dated May 3rd, 2020, which means that Swift likely embroidered and sent the blanket while Katy was still pregnant, so it would be ready when the baby arrived. (Daisy Dove was born in August.)
It's a kind gesture from Swift, and the blanket is very beautiful. Remember how Perry once bashed Swift while doing Carpool Karaoke with James Corden? It's nice that that's behind us now.