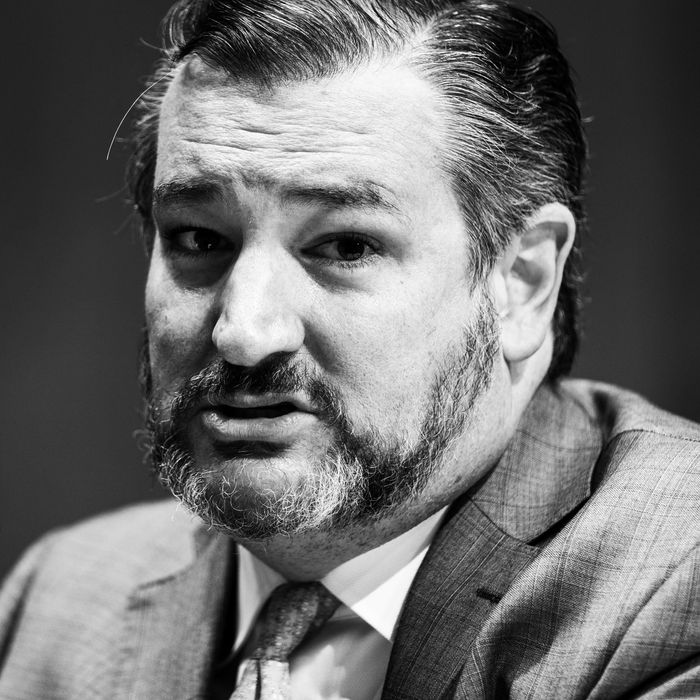 Republican Senator Ted Cruz.
Photo: JIM LO SCALZO/POOL/AFP via Getty Images
On Tuesday, Republican senator Ted Cruz proudly announced his efforts to erode access to one of the safest medical procedures in the world, by attempting to get the abortion pill banned. "Pregnancy is not a life-threatening illness, and the abortion pill does not cure or prevent any disease," he tweeted. "Make no mistake, Mifeprex is a dangerous pill. That's why 20 of my Republican colleagues and I are urging the FDA to classify it as such."
The previous day, this group of Republicans had mailed a letter to the Food and Drug Administration, calling on the agency to "classify the abortion pill as an 'imminent hazard to the public health' that poses a 'significant threat of danger' and remove this pill from the U.S. market," despite overwhelming evidence that the abortion pill is safe.
Cruz's tweet was met with immediate outrage, coming as it does in the middle of a grievous maternal mortality crisis. America has been called "the most dangerous place in the developed world to deliver a baby." According to CDC data, in 2018, the maternal mortality rate in the U.S. was 17.4 maternal deaths per 100,000 live births, by far the highest in any developed nation. And for Black women, the rate is twice as high: 37.1 deaths per 100,000 live births. Every year, approximately 800 women in the U.S. die during pregnancy and within 42 days after delivery, and 50,000 are "severely harmed" due to complications related to childbirth. Meanwhile, the abortion pill is known to cause complications "in no more than a fraction of a percent of patients," according to a landmark report published in the National Academies of Sciences, Engineering and Medicine.
Thousands of advocates, politicians, and those who'd experienced life-threatening pregnancy complications responded to Cruz, calling his assertion that pregnancy is "not life-threatening" ignorant and misogynistic. "I had preeclampsia — a life-threatening disease caused by pregnancy. The only cure is to no longer be pregnant," wrote one woman.
"I had a stroke while pregnant with my son and bled out in the delivery room right after my daughter was born. If not for modern medicine and blood transfusions, I'd be dead right now. DO NOT TELL ME PREGNANCY CANNOT BE LIFE-THREATENING," said another.
For further evidence of this, Cruz need only look to the state he represents, which boasts the highest maternal mortality rate in the country. According to a study published in Obstetrics and Gynecology, in 2014, Texas's maternal mortality rates was 35.8 per 100,000 live births. For comparison, in Japan, that number was five.