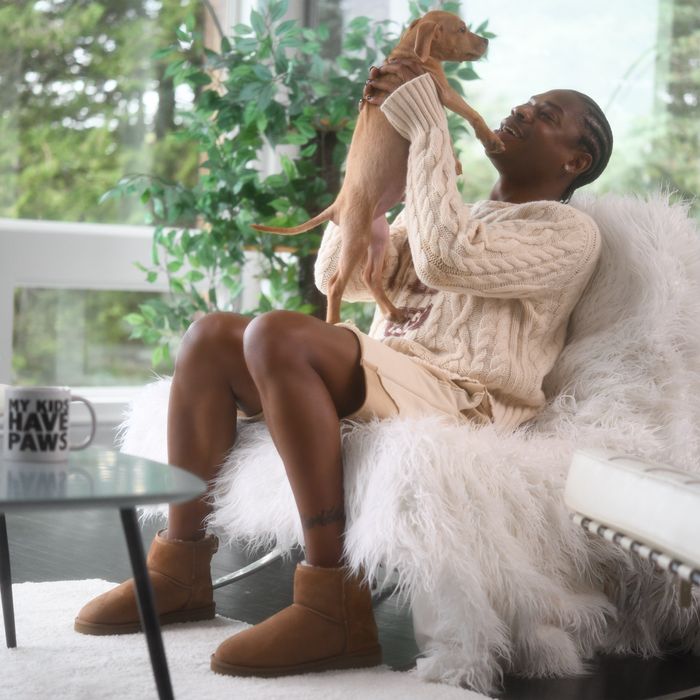 Photo: Torso/Courtesy of Ugg
Everyone could probably use a good, long hug right now. Or a rub on the back. Or a nice, cozy snuggle. But unfortunately, in these cruel and unusual times, touching one another is one thing we cannot do.
"Touch is a sense that makes you human," says fashion designer Telfar Clemens in a new HSN-meets-ASMR-style video announcing his brand's upcoming collaboration with Ugg. In lieu of a human embrace, he cuddles with a small dog on a plush sheepskin throw while wearing a soft-looking cable-knit sweater by his namesake line, plus a large fuzzy hat on his head and, of course, a pair of Ugg boots on his feet. "I find Ugg really sexy — a soft kind of rugged," he said coyly in a press release.
Watching this video, (which features an original track by Ian Isiah), provokes a tingly feeling all over. You can imagine the sensation of shearling rubbing against your bare feet … cashmere brushing over the goosebumps on your arm … the warmth of a big, cozy hat on your head — God, we are so starved! At least fashion can give us a hug.
This collaboration could not have come at a better time. No other luxury brand has given the public more of what it wants and needs over the past six months than Telfar — first with its sold-out shopping bags and now with the shoe equivalent of butter. But this partnership also feels like a natural fit. As a populist brand beloved by just about everyone, Ugg falls in line with Telfar's mission, as did Telfar's previous collaborations with White Castle and Century 21 (and even a canceled one with Gap).
"I have made unofficial, unauthorized Ugg boots in two shows already dating back to 2010. So I've always been obsessed [with] a certain kind of ubiquity and when something really unique ends up on everybody," Clemens explained. "What I want to do is get down to the DNA of Ugg and see what genes we have in common. To get down to the core of that feeling."
The Ugg x Telfar collection will launch sometime in 2021, but other than that, the details are hush-hush. For now, we'll just have to watch the campaign video over and over and over again, to remind ourselves what it's like to feel something.
:')