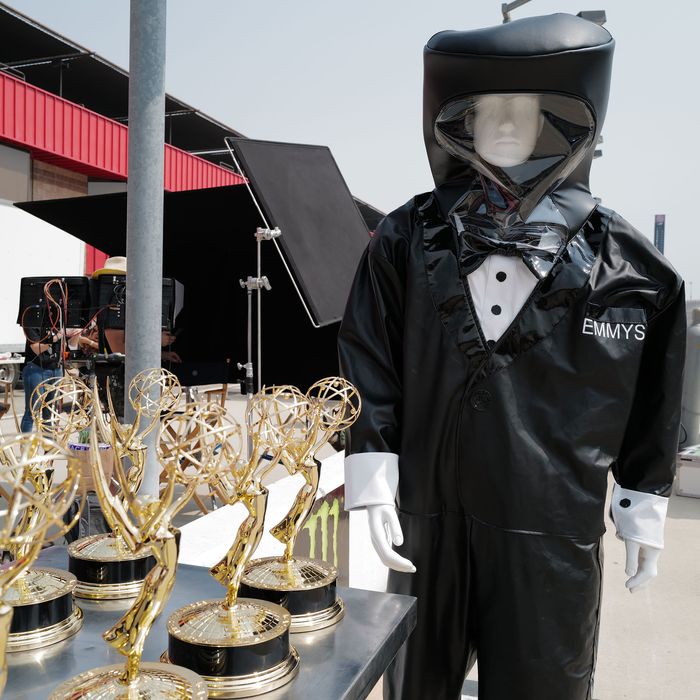 One thing I've noticed about watching society collapse in real time is the lack of subtlety. Again and again, we're confronted with developments and headlines that seem gratuitously heavy-handed, like we're all in the opening scenes of a cheaply made sci-fi movie. No delicate symbolism or imagery here, just big cartoon mallets that say "Humanity is the architect of its own demise!" and then smash us in the face.
Take, for example, Sunday night's Emmy Awards. It was a COVID-safe, socially distant affair that included host Jimmy Kimmel doing his monologue in an empty Staples Center and celebrities presenting and accepting awards from their homes. Most dystopian of all, though, were the people in tuxedo hazmat suits waiting outside nominees' homes and presenting them with their trophies when they won. Or, as Ramy star Ramy Youssef shared in a tweet, waiting outside nominees' homes and then leaving with their trophies when they didn't win.
As BuzzFeed reported, a press release from ABC last week called the suits a "fun and irreverent visual" that also "ensures the health and safety of all of our winners and the presenter by following all of the health and safety protocols — with a twist." The suits were designed by costume designer Katja Cahill and executive producer Guy Carrington, who collaborated with a hazmat manufacturer to create the outfits for the show.
It is unclear what will become of the suits now that the awards have been handed out. Will they be donated? Destroyed? Mass-produced so people can wear them to pandemic-era weddings for the foreseeable future?
Anyway, it's all a little on the nose, I'd say.