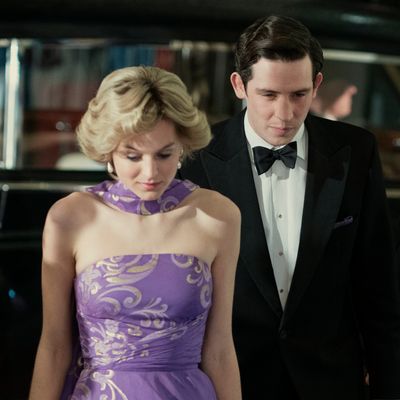 Photo: Ollie Upton/Netflix
Netflix continues to tease season four of The Crown ahead of its November 15 release date, and today it threw us a few bread crumbs in the form of a handful of first-look photos (some spoilers ahead).
Vanity Fair published a series of images from the season, which will cover 1977 to 1990 and feature the introduction of Princess Diana (Emma Corrin) as well as the contentious reign of Britain's first female prime minister, Margaret Thatcher (Gillian Anderson).
The show's creator, Peter Morgan, had previously said the season would be "heavily" focused on Diana, which these new images, the trailer, and some leaked set photos pretty much confirm. In his interview with VF, he said the problems in Charles and Diana's relationship were largely ignored by the royal family throughout their unhappy marriage, and he is aiming to give them "a voice in the season." As such, the show will spend more time with both of them and follow Prince Charles (Josh O'Connor) as he goes from a sympathetic character to a flawed, dark one.
We'll also get to see Diana's transition from a relatively normal person to a princess. "You meet her, and she's … 16 years old," Corrin said of her first scene, in which she meets Charles when he comes to take her older sister out on a date. "From episode one to three, we see her dynamic before she goes into the palace — and how normal she was, living in her flat with friends … then she's really transported overnight."
"The most useful research came from her childhood and her relationship with her parents, which was fucked, to say the least," Corrin said of preparing for the role. "If you have a very fucked relationship with your parents, you constantly look for maternal and paternal figures."
As for the real-life events, we know this season (the fourth of six) will cover Diana's first weekend at Balmoral, her 1983 Royal Tour of Australia with Charles, and an infamous moment during the couple's televised engagement interview when they were asked whether they were in love. Diana said, "of course," while Charles responded, "whatever 'in love' means."