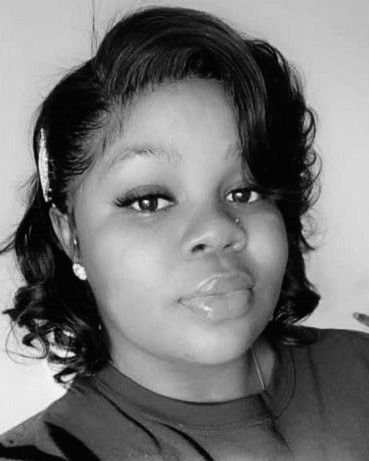 On Wednesday afternoon, a Kentucky grand jury announced that only one officer involved in Breonna Taylor's murder would face charges, none of which relate to her death. The decision had layers of injustice, but among the most appalling has to be this: After more than 125 days of protests, with Americans across the country marching and chanting "say her name," Taylor's name was not directly part of the indictment.
Instead, the charges centered around bullets that shattered the glass door of a nearby apartment, where white parents and their 5-year-old child were sleeping (no one was hurt), instead of the 32 rounds officers fired into Taylor's home, one of which killed her. The victims are identified by their initials — "C.D.," "T.M.," and "Z.F." — but there is no mention of "B.T." The woman whose death helped to galvanize mass protests and a racial reckoning in America was quite literally erased by the justice system.
Former police officer Brett Hankison was indicted on three counts of first-degree wanton endangerment; he could serve a minimum of three years in prison, and his bond was set at $15,000. It's a meager punishment for Hankison, and a complete exoneration for the other two cops involved in shooting the 26-year-old until she died in her hallway.
"It's yet another example of no accountability for the genocide of persons of color by white police officers," said Ben Crump, a lawyer for Taylor's family, in a statement. "With all we know about Breonna Taylor's killing, how could a fair and just system result in today's decision?"
Not only did the other two officers — Myles Cosgrove and Jonathan Mattingly — not face any legal charges, they are both still employed by the Louisville Metro Police Department. In a press conference following the announcement, Kentucky attorney general Daniel Cameron said the cops were "justified in their use of force" because they had announced themselves before opening fire, a fact that is contested by Taylor's boyfriend, Kenneth Walker, and some of his neighbors. (The officers shot Taylor at least five times, and Cosgrove fired the round that killed her.) In other words, they were just following the law, according to the Kentucky attorney general, albeit a law designed to protect officers and punish vulnerable people.
In March, the cops broke into Taylor's apartment after midnight to investigate her ties to a drug dealer, even though the main suspect in the case had already been arrested (no drugs were found in her home). Walker thought someone was trying to break in, and he shot a bullet in defense, which prompted the officers to return fire.
The indictment is a far cry from what Taylor's family and their lawyers wanted: They'd called for all three officers to face second-degree manslaughter charges. Indeed, the grand jury could have considered any four degrees of homicide charges, which range from reckless homicide to murder. Legally speaking, a manslaughter charge would require proof that Hankison's "wanton endangerment" led to Taylor's death, said Samuel Marcosson, a law professor at the University of Louisville. Attorney General Cameron said none of Hankison's shots struck Taylor, which explains why he was not charged with homicide, but Marcosson said he cannot explain why there are no wanton endangerment charges for the rounds fired directly into Taylor's apartment.
Wanton endangerment is a Class D felony that means the accused put someone at risk of death or serious injury by behaving in a way that shows "extreme indifference to the value of human life." Other examples in the same category include shoplifting, possessing illegal drugs, or stalking —crimes that are hardly on the same level as shooting rounds into a civilian's apartment while she is lying in bed. Eliza Orlins, a New York–based public defender, said Hankison received the same punishment as someone who spends $500 on a stolen credit card — proof that the justice system "doesn't hold the powerful accountable."
Lawyers, advocates, and protesters were outraged at the news, calling the indictment "offensive" and "heartbreaking." Immediately after the announcement, protesters who had gathered in downtown Louisville sobbed, yelled "That's it?" and began to march for yet another day, in hopes that their cries for justice will have an impact.
"Make no mistake, we will keep fighting this fight in Breonna's memory," said Crump, "and we will never stop saying her name."
But right now, Hankison will only face more severe charges if the case reaches the federal level — a possibility the FBI is investigating. In the meantime, people should advocate for state laws that better hold officers accountable for their violent behavior, Marcosson said. That way, families and communities might not have to face the dual traumas of mourning another life lost to police brutality and a legal system that doesn't deliver justice.