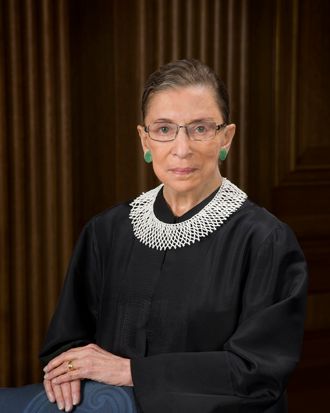 Ruth Bader Ginsburg.
Photo: The Collection of the Supreme Court of the United States/Tribune News Service via Getty Images
On Friday night, the Supreme Court announced that Justice Ruth Bader Ginsburg had died from complications of metastatic pancreas cancer. A Clinton appointee, Ginsburg held her seat on the nation's highest bench for 27 years, emerging as a feminist idol and the left's strongest bulwark against an increasingly conservative court. She was 87 years old.
"Our nation has lost a jurist of historic stature," Chief Justice John Roberts said in a statement. "We at the Supreme Court have lost a cherished colleague. Today we mourn, but with confidence that future generations will remember Ruth Bader Ginsburg as we knew her — a tireless and resolute champion of justice."
On Friday night, mourners held a vigil on the steps of the Supreme Court. "We, as citizens, have a responsibility to mourn her, and stand together and show that we care about human life, which is something I think we've lost in the last six months," participant David Means told the New York Times. On Saturday morning, people continued to lay out signs and flowers, honoring the late justice.
A self-described "flaming feminist litigator," Ginsburg inspired a fervent following that cemented her as a pop-cultural icon. She is remembered for her fiery dissent (and her special dissent collar) in cases that imperiled the terms of Roe v. Wade and emboldened Southern states seeking to limit voting rights. In his statement on her death, former president Barack Obama called Ginsburg a "warrior for gender equality" who "inspired the generations who followed her, from the tiniest trick-or-treaters to law students burning the midnight oil to the most powerful leaders in the land." He also called on the Senate to "apply rules with consistency" and honor her final wish that a vote on her replacement not occur before the 2020 election.
On Twitter, remembrances, condolences, and statements of gratitude have been pouring in since news of her death broke.
"Rest in power to a feminist icon and American hero!" writer and transgender activist Janet Mock tweeted. "Thank you Ruth Bader Ginsburg for your service, for working well BEYOND retirement until the very end because our country needed you. Thank you. Thank you. Thank you."
NPR legal affairs correspondent Nina Totenberg, who developed a strong friendship with the justice decades before she ascended to the Supreme Court, remembered Ginsburg as a brilliant and "pioneering" legal mind, with a "wonderful sense of humor."
"No matter how lousy she felt, she rose to the occasion," Totenberg wrote. "She was always the inimitable RBG." On Twitter, she added, "A Jewish teaching says those who die just before the Jewish new year [Rosh Hashanah, which began Friday night] are the ones God has held back until the last moment because they were needed most and were the most righteous. And so it was that RBG died as the sun was setting last night."
"This is a devastating personal loss for so many. But more than that, it is a devastating loss for our country," Hillary Clinton wrote in her statement. "Her memory is already a blessing. May it also be a call to continue her work for justice and equality under the law."
As her admirers praised her as a champion for "justice, equality, and democracy," per Madeleine Albright, and an inspiration to "countless women and girls to stand up and take charge," per Danica Roem, Ginsburg herself wanted us to remember her as "someone who used whatever talent she had to do her work to the very best of her ability," she told New York's Irin Cameron. In the end, she wanted to be known as someone who worked "to help repair tears in her society, to make things a little better through the use of whatever ability she has."