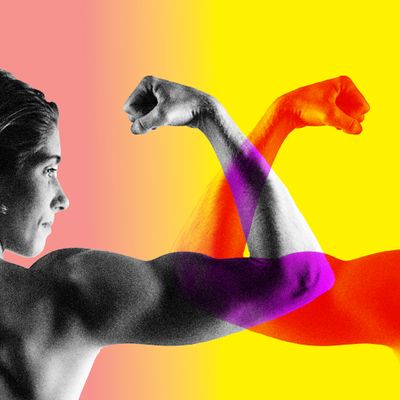 Photo-Illustration: By Stevie Remsberg
At the start of the pandemic, I had a stressful home situation that's really none of your business. The world, which always feels out of my control, felt especially out of my control. What was within my grasp was my physical body — or was it? — which I pumped with wine and then woke up and pumped out with iron. I thought this would help mitigate the stress as well as build my immunities. The rest of the days were a crapshoot. My job was to write but I couldn't quiet my mind, or find a place of literal quiet. A hospital down the street had a refrigerated morgue truck parked outside. Someone I love was fighting cancer, far away, and people walking by my first floor window coughed, sneezed, and screamed at each other.
Pump! Pump! Pump!
I'll tell you all my fitness secrets, I don't care. I use the Aaptiv app. If I have dumbbells, I do trainer Ackeem Emmon's 18-minute "All About Arms" workout, which is a few sets of bicep curls, shoulder presses, burpees, and plank moves. Ackeem's favorite season is FALL, and he is an intimate stranger to me. He says "curls for the girls" and he is right. The curls are for me, this girl. Sun's out, gun's out, Ackeem says, and I wonder if we're allowed to keep calling our arms guns. Problematic? Look at my triceps and tell me they're canceled.
Famous women with strong arms, off the top of my head, include Michelle Obama, Rosie the Riveter, and HLN Morning Express host Robin Meade. Once I drank a bit of tequila with Meade, who is fun as hell, and she told me about her 3 a.m. arm band workout and eating protein-powder cheesecake. Two things I couldn't stop thinking about for months that turned into years. When you watch her on-air, you see her legit Miss Ohio beauty-queen eyelashes and her Atlanta-tanned, toned arms. They say I could arm wrestle you in a bar, punch you in the nose, or pick up a wounded shoulder — depending on the scenario in which they're needed.
Barbie, the doll, has smooth, but wimpy arms. Not inspiring. A woman with strong arms is not to be fucked with. I am fucked with anyway. A cashier at Meijer yells at me for trying to use reusable bags. "Fine!" I growl, flexing my biceps, accomplishing nothing. A used car salesman in Lansing doesn't budge on the price of a Rav4 I hand my savings over for, while my arms quiver with helpless rage. A weirdo with a yappy Pomeranian at a gas station calls me and my boyfriend "braindead sheep" for wearing masks. My arms just sit there, flaccid. I'm not sure if strong arms are an effective metaphor for anything as much as they feed my own vanity when I'm wearing my Costco tank top collection. I'll take it.
And oh! How good it feels when my boyfriend's pal compliments my "smoking guns" via text. My heart flutters with joy. The next day, a co-worker admits it's awkward to bring up, but my arm muscles are VISIBLE. My sister describes my summer arms as "looking toned" before she dives into the ocean to swim faster, further, and longer than me. Perception > reality? On Zoom, I angle the camera to tease a hint of chiseled shoulder. As my arms turn into the rocky sides of a mountain, life elsewhere begins to crumble.
Working out with weights gave me my Summer of Covid arms, but pushups and coffee table dips are a close substitute now that dumbbells are sold out everywhere and ABSOLUTE JERKS have bought them out at Walmart to resell for $2/pound on Facebook Marketplace. I see you Jonah from Ypsilanti, and I will not fall for your opportunistic SCAM. Those 8-pound neoprene-condom-coated weights should cost $10/pair. I am unnecessarily angry about this, and I refuse to give in. The weights I used in March were borrowed, so now I do a lot of spiderman planks where you bend your knees to your elbow and scale the floor, going nowhere. I'm worried my arms are starting to soften without my weight routine; I'd prefer they be as hardened as my defense mechanisms. But from my understanding, summer will roll back around. And we can all try again.