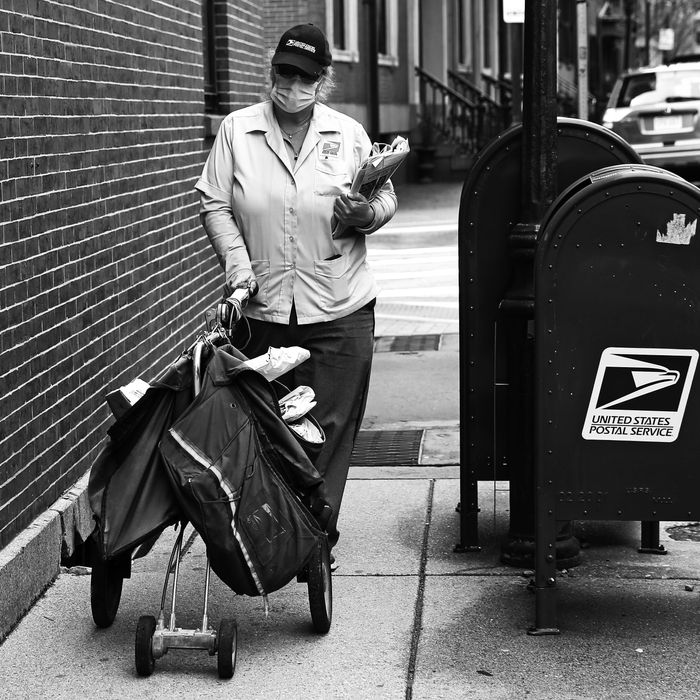 Allegedly, the Trump administration was concerned about causing "panic" in providing the public with face coverings early on.
Photo: Boston Globe/Boston Globe via Getty Images
At the beginning of the coronavirus pandemic, U.S. public-health officials insisted that face masks only served a purpose for essential workers. Around April, however, the Centers for Disease Control and Prevention had changed its tune. They began recommending that everyone wear facial coverings, particularly in situations where social distancing wasn't possible, to help limit asymptomatic spread of the virus. At first, officials reportedly feared that encouraging the widespread use of masks would exacerbate the PPE shortage, but by mid-July, CDC director Robert Redfield was saying, "If we all wore face coverings for the next four, six, eight, 12 weeks, across the nation, this virus transmission would stop."
Given all of that, one wonders what things might've been like if the government had simply been upfront about the evidence from the start — and maybe distributed the resources necessary to head off a hoarding situation. According to a report from the Washington Post, the U.S. Postal Service was prepared to do just that, but the White House trashed their plan.
As the CDC began revising its guidance on face coverings, the Department of Health and Human Services allegedly proposed shipping out packages of five reusable face masks to every household in America, beginning with coronavirus hotspots. The USPS stepped up, drafting a press release (dated April) announcing its plan to deliver 650 million cloth masks and noting that it was "uniquely suited" to rise to this occasion. Per the Post, it would've started with Orleans and Jefferson parishes in Louisiana before sending out supplies to King County, Washington, Wayne County, Michigan, and New York.
Apparently, though, "There was concern from some in the White House Domestic Policy Council and the office of the vice president that households receiving masks might create concern or panic," an administration official told the Post. Instead, the funding that would have gone to the mask-delivery effort ultimately went to Project America Strong, which provided for the distribution of cloth masks to "critical infrastructure sectors, companies, healthcare facilities, and faith-based and community organizations across the country." At least until it ran out of masks in June.
The president's expectation of mass hysteria may also explain his coronavirus response from the very beginning. According to historian Bob Woodward, Trump knew the coronavirus was "deadly stuff" in January, but publicly downplayed the threat so as not to "create a panic." Instead of presenting a strategy based on the acknowledgment of fact, he has sowed misinformation and confusion. He personally refused to wear a mask for for four months and leaned heavily into science denial, setting a bad example his supporters have seemed all too eager to follow.
Meanwhile, six months into a global pandemic, the country accounts for almost a quarter of the global case count, and nearly 200,000 people in the U.S. have died from the coronavirus. Unfortunately, as we are continually reminded, it really didn't have to be this way.