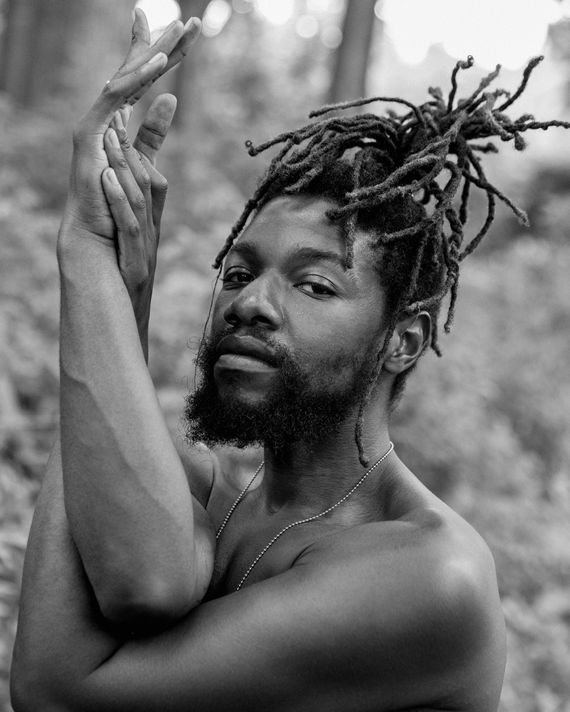 "I'm a son, a brother, a nephew, a cousin, an uncle, a godfather, and a patchwork reflection of my ancestors," says designer and artist Najee Wilson. Born and raised in South Carolina, the multi-hyphenate artist currently lives in Brooklyn, where his work involves set design, installation design, costume design, image-making, and telling stories through the body and movement.
Modeling is his main art form, but he thinks about it in a more expansive way than most people — for him, it's a performance in which he uses his body to creatively influence others. He refers to himself as "a constant friend to a chosen few and an inspiration to many artists as a Muse." In all of his work, he focuses on Black culture and identity. Both the painter Kehinde Wiley and the performance artist Marina Abramovic are major inspirations, as well as the film Dancing at Dusk — A Movement With Pina Bausch's The Rite of Spring.
"When I see someone move in a way that makes me question the limits of the body, it's inspiring," says Wilson. The Cut spoke with him about Cancel Rent, superpowers being overrated, and buckwheat and millet hull pillows.
What does cool mean to you?
Being true to one's self. It is a simple concept: Be you.
What kind of animal would you be and why?
A black jaguar. My spirit is reflected in its majesty.
What superpower would you have and why?
Teleportation would be a dream, but I honestly think superpowers are overrated. I would prefer to be the very best version of myself. I'd rather just understand and tap into what unseen gifts I already possess. Besides, the Marvel and DC universe have shown us that life is not necessarily easier with such skills, just, well, different.
If you could master any skill (that isn't related to your current job), what would it be and why?
I would love to be fluent in many languages. When communication is effortless, it opens us to new experiences. I speak a little French, Spanish, Italian, and I'm currently studying Sanskrit.
Are there any causes or organizations you are supporting right now?  
Cancel Rent, in support of The Housing Justice for All Campaign and the fight for housing equality. I have been volunteering closely with Housing Organizers for People Empowerment (H.O.P.E.) in East Brooklyn. In June I collaborated with This Place NYC, where I mused for a virtual drawing session. My poses evoked images like the Pieta by Michelangelo or The Dying Gaul by Agasias, son of Menophilus. All the donations made went to support the Black Lives Matter movement and Colin Kaepernick's initiative, Know Your Rights Camp. Their mission is to advance the liberation and well-being of Black and Brown communities through education, self-empowerment, mass-mobilization, and the creation of new systems that elevate the next generation of change leaders.
What Black-owned local (or not) businesses are you supporting?
Natty Garden is my favorite spot in Brooklyn to find bountiful plant life to take home. I recently got a String of Pearls Succulent that is just flourishing in my bathroom at the moment. Marché is a cultural concept store that I frequent to stock up on the most intoxicating frankincense resin incense. Sisters BK has a great menu and I love their veggie burger!
What goals are you working towards at the moment?
At the beginning of July, I joined Black Lives Matter Rocket Yoga, a donation-funded 100-hour virtual teacher training. I've maintained a serious Yoga practice for five years and have slowly been finding my voice guiding friends and family in practice. So when I heard about this from a friend, I felt now would be the perfect time to gain a deeper understanding of this dynamic flow variation that is based on Ashtanga Yoga.
What do you do for self-care?
Yoga because I have to move and stretch to restore after musing sessions and more strenuous workouts. Drinking lots of water because hydration is key. I meditate daily; it's time for me to be totally present with myself and my thoughts, and just be. Meditation also helps me maintain mental clarity when things become hectic.
What piece of advice has had the biggest impact on you and why?
"I've learned that people will forget what you said, people will forget what you did, but people will never forget how you made them feel." —Maya Angelou
What is one item that has made your life better?
Buckwheat and millet hull filled pillows. Nothing like firm alignment meant to foster a good night's rest.