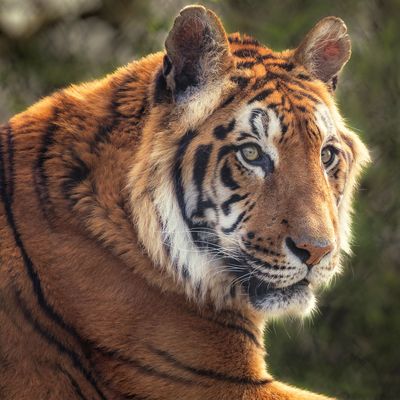 Have you seen a tiger that looks like this?
Photo: Richard Clark/500px/Getty Images
Excuse me, I'm sorry to bother you, and I know there's a lot going on right now, but you haven't by any chance seen a tiger around, have you? I pose this question specifically to the residents of Knoxville, Tennessee, and its surrounding areas, but also to anyone else, because you can't be too careful about these things, I guess.
You see, authorities in Knoxville are currently trying to locate a tiger that a Knox County Sheriff's Office deputy spotted in the Forks of the River Industrial Park late Wednesday night. According to the Knoxville News Sentinel, a spokesperson for the sheriff's office said that the deputy, Andy Wilson, was working a side job at a business in the park around 8:30 p.m. that night, when he saw a large cat — between 150 and 200 pounds, in his estimation — rise out of the water of the French Broad River, cross the street, and disappear into the woods.
Wilson, according to the Sentinel, "insisted he hadn't dozed off and dreamed the sighting."
Indeed, the sheriff's office has reportedly been getting calls from all over the county about the animal, and there have been unconfirmed tiger sightings reported in the southeastern part of the county as well.
Local authorities, including the Knoxville police, animal control, and Air Watch, are all looking for the missing animal, and are coordinating with Tiger Haven, a big-cat sanctuary in Kingston, Tennessee, as well as the Tennessee Wildlife Resource Agency.
It's unclear right now where the tiger came from. All of Zoo Knoxville's tigers are accounted for, as are Tiger Haven's, which means the tiger possibly escaped from a private owner. (It is illegal to own a tiger in the state of Tennessee.)
A culvert trap has been set for the tiger, and Mary Lynn Parker of Tiger Haven said the sanctuary will take the animal if it's caught.
In the meantime, keep your eyes peeled?