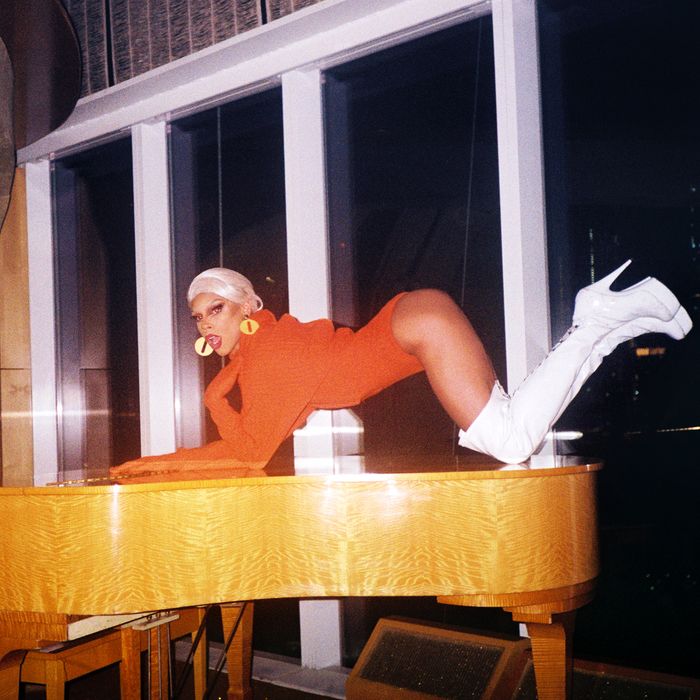 Untitled (Serena), 2019.
Photo: Charles Caesar
The widespread, collective activist work from this summer, while important and unprecedented, is far from over. In fact, we have a long way to go, as the fight for Black trans people and sex workers continues to fall short. "Everyone has a role to play in the revolution," write the founders of Towards Utopia, a "pro-sex, anti-fascist" print sale raising funds for those two particularly vulnerable communities.
"This year alone has seen a tragic increase in the number of hate crimes targeting Black Trans people," the organizers said on Instagram. "Far too many have had their beautiful lives cut short by violence and systematic disenfranchisement." And while some progress has been made with representation in media, many still face violence because of discriminatory housing and hiring practices and transphobic legislation. The current life expectancy of a Black trans woman is only 35. Bree Black, Merci Mack, Draya McCarty, Dustin Parker, Tony McDade, and Layleen Polanco are just some of the names on a depressingly long list of trans lives cut short by this hate and violence. Additionally, the pandemic exacerbated issues that sex workers already face with federal laws barring them from disaster loans and grant assistance. "We believe that this violence must end," the organizers say.
To raise money, artists and photographers like Nan Goldin, Ryan McGinley, Lia Clay Miller (who shoots the Cut's "They Seem Cool" series), Malike Sidibe, Richie Shazam, and Luke Gilford contributed limited-edition prints that will be sold at prices ranging from $50 to $200. The proceeds will benefit three grassroots organizations: G.L.I.T.S. (Gays and Lesbians Living in a Transgender Society) and For the Gworls, which raise money for Black trans people's rent and gender-affirming surgery, and SWOP Brooklyn, which provides financial assistance to sex workers in New York City.
Below are a handful of the works available to purchase. All prints can be found here.