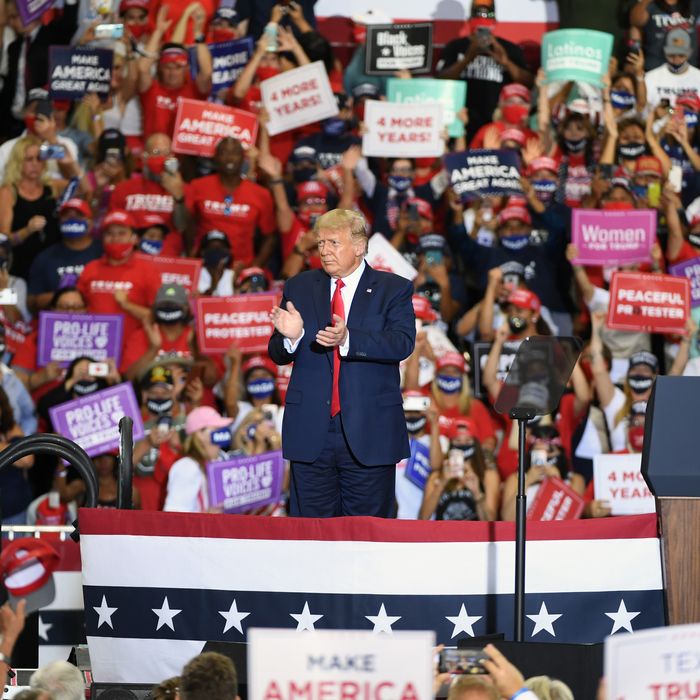 Three months after his last big indoor rally in Tulsa, after which numerous campaign staffers and Secret Service agents tested positive for COVID-19 and the area saw a surge in cases, Donald Trump hosted an encore.
On Sunday night, the president spoke at an indoor rally in Henderson, Nevada, violating the state's social-distancing regulations in the process. The New York Times reports that thousands of Trump supporters were crowded onto the factory floor of the Xtreme Manufacturing plant without attempts to social distance, many not wearing masks, in a state that forbids indoor gatherings of 50 people or more.
Nevada's democratic governor, Steve Sisolak, condemned the President's actions in a series of tweets on Sunday, writing that Trump was "reckless and selfish" in disregarding the state's social-distancing guidance and "putting countless lives in danger here in Nevada." Sisolak added, "He came into our State and blatantly disregarded the emergency directives and tough choices made to fight this pandemic and begin reopening our economy by hosting an indoor gathering that's categorized as 'high risk' according to his own CDC."
Mike Gwin, a spokesperson for the Biden campaign, also criticized the rally's failure to comply with public-health directives, saying, "Every rally turned superspreader event Donald Trump decides to hold serves as another reminder to Americans that Trump still refuses to take this pandemic seriously and still doesn't have a plan to stop it, even after nearly 200,000 deaths and untold economic damage." Trump campaign spokesperson Tim Murtaugh said in a statement about the rally that attendees were given masks and encouraged to wear them, underwent temperature checks at the door, and had access to hand sanitizer.
As to the content of the president's remarks, the Las Vegas Review-Journal reports that he claimed his administration had prevented the pandemic death toll from being higher than it already is (around 194,000 deaths at present — the highest of any country in the world). Trump also told the crowd he thought anyone convicted of murdering a police officer should receive the death penalty, at which point many of his supporters reportedly leapt from their seats and cheered for several seconds.
Henderson spokesperson Kathleen Richards told the Review-Journal ahead of the rally that the city had issued Xtreme Manufacturing a warning, threatening the company with a citation and with revoking its business license if it assisted in violating social-distancing rules. The Times reports that Xtreme Manufacturing says on its own website that it had "restricted meetings and gatherings to no more than 10 people in large areas."
There have been more than 73,500 cases and 1,450 deaths from COVID-19 in Nevada.