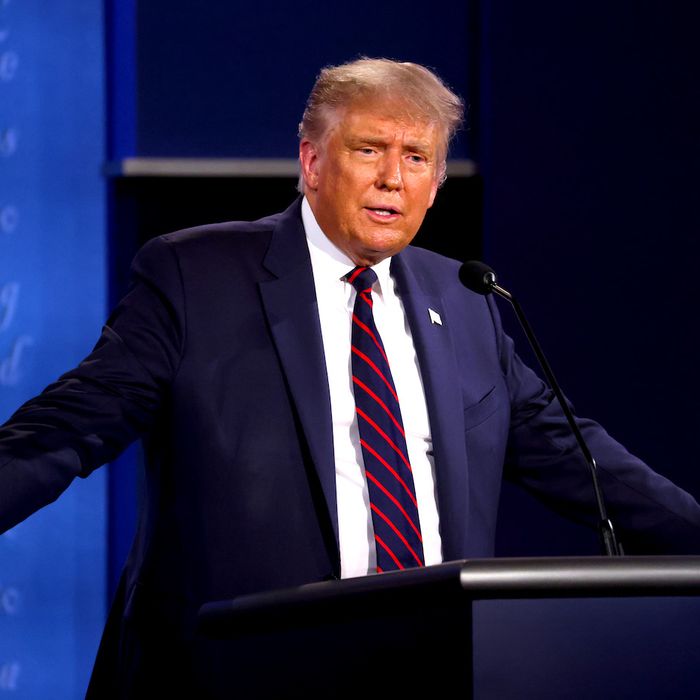 "Proud Boys, stand back and stand by."
Photo: Scott Olson/Getty Images
Donald Trump has historically adopted an open attitude to white nationalists, appointing them to top roles in his administration and occasionally even borrowing their rhetoric. Unsurprisingly, then, he has been loath to denounce his far-right supporters flat-out, and tonight's presidential debate proved no exception. Throughout the evening, the president indulged in his favorite pastimes: lying with abandon, yelling, and skirting the questions he did not want to answer (most questions). One example: During a discussion of anti-police brutality protests, where right-wing vigilantes have seeded violence, moderator Chris Wallace asked Trump to take a definitive position.
"Are you willing, tonight, to condemn white supremacists and militia groups and to say that they need to stand down?" he asked the president.
"Sure, I'm prepared to do it," Trump responded. "But I would say almost everything I'm seeing is from the left wing, not from the right wing." He added, "I'm willing to do anything." As both Wallace and Trump's opponent, Democratic nominee Joe Biden, prodded him to "do it, say it," Trump demurred again, asking Wallace to "give [him] a name." Wallace repeated his request for the president to simply address white supremacists. Instead, Trump seized on Biden's suggestion and came out with this:
"Proud Boys, stand back and stand by! But I'll tell you what, somebody's got to do something about antifa and the left."
The Proud Boys, an extremist hate group linked to the 2017 Charlottesville rally, immediately seized on the president's call out, echoing it across Twitter. "Standing down and standing by sir," one Telegram user reportedly wrote. And while the Proud Boys take up a new motto, Trump once again failed to condemn them explicitly, instead issuing what the group's members may be taking as a marching order. Dog whistles tend to have that effect.