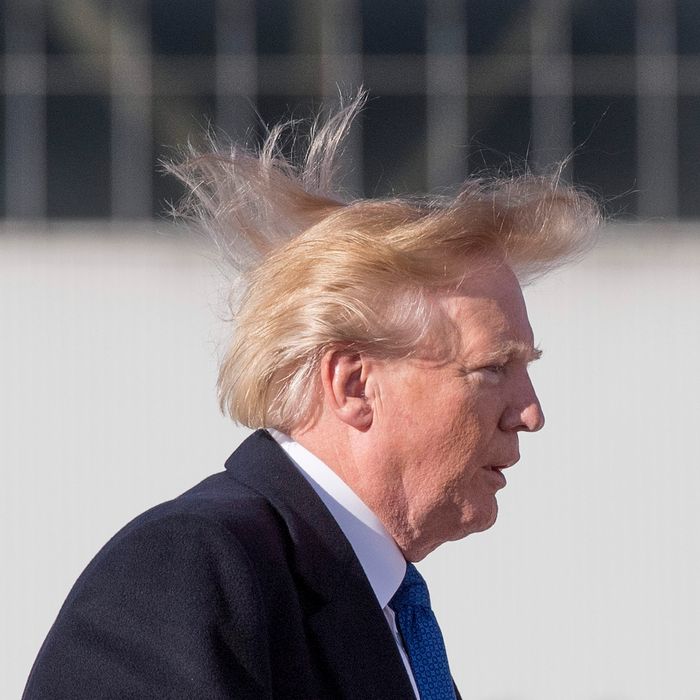 Photo: Jim Watson/AFP via Getty Images
In the New York Times' bombshell report on Donald Trump's tax returns, one detail sticks out like a spindly comb-over flapping in the breeze: Trump has spent a whopping $70,000 in personal hairstyling "for television" and wrote it off as a business expense.
The amount is shocking in the context of the rest of the Times report, which reveals that Trump's reported income was so low that he avoided paying federal income taxes for over a decade and paid only $750 to the IRS after he became president. So while he was purporting to be a genius developer, TV star, and magnate to the public, Trump was declaring huge losses and using them to avoid paying taxes to the federal government. One year, he even received a staggering $72.9 million refund from the IRS. Another tactic he employed: writing off expenditures, like his $70,000 in hairstyling for The Apprentice and air travel between his hotels, as "business expenses." He wrote off another $100,000 paid to one of Ivanka Trump's stylists to similarly reduce his tax amount.
That our president, the head of the federal government, has paid so little in taxes that regular people are forced to pay every year is beyond maddening. "In 2016 & '17," Representative Alexandria Ocasio-Cortez wrote on Twitter, reacting to the news, "I paid thousands of dollars a year in taxes *as a bartender.* Trump paid $750. He contributed less to funding our communities than waitresses & undocumented immigrants. Donald Trump has never cared for our country more than he cares for himself." She had reasons to be annoyed at the hair-care revelation in particular: "Last year Republicans blasted a firehose of hatred + vitriol my way because I treated myself to a $250 cut & lowlights on my birthday," she continued. "Where's the criticism of their idol spending $70k on hairstyling? Oh, it's nowhere because they're spineless, misogynistic hypocrites? Got it."
Tens of thousands of dollars is also disturbing in the context of Trump's hair itself, which is notoriously paltry and delicate in terms of structure and overall heft. Such a large amount of styling seems like it would totally overwhelm what is essentially a patch of parched grass on a sunbaked hill. What could someone possibly have done to Trump's hair for that amount of money? I await the next series of the Times investigation for more revelations on the matter.