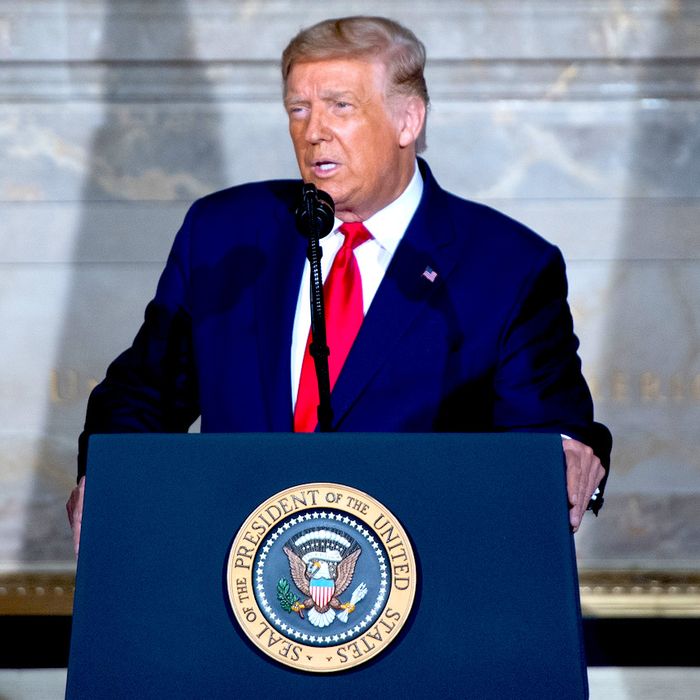 Surprise.
Photo: SAUL LOEB/AFP via Getty Images
Over the summer, President Donald Trump spent a lot of his time railing against anti-racist protests. He tried to quash them with "secret police" (to borrow Senator Elizabeth Warren's phrasing); he mounted a full-throated defense of Confederate monuments and their legacy. And now, he plans to carry that agenda into the school year, with the creation of a special commission to promote "patriotic education" that will "defend … the nobility of the American character."
"We must clear away the twisted web of lies in our schools and classrooms, and teach our children the magnificent truth about our country," Trump said while speaking at the National Archives Museum on Thursday, during the White House Conference on American History. "We want our sons and daughters to know that they are citizens of the most exceptional nation in the history of the world."
To that end, Trump signed an executive order establishing the "1776 Commission," apparently a rejoinder to the 1619 Project by the New York Times Magazine. Named for the year the first slave ship arrived in Virginia, the 1619 Project "aims to reframe the country's history by placing the consequences of slavery and the contributions of black Americans at the very center of our national narrative," and can be taught in schools. Trump has already threatened to revoke funding from public schools that adopt the 1619 Project's curriculum, and on Thursday, he expanded on his reasoning.
"Critical race theory … and the crusade against American history is toxic propaganda, ideological poison that if not removed will dissolve the civic bonds that tie us together," he said, according to Politico. "It will destroy our country."
Trump also claimed that teaching critical race theory is "a form of child abuse," and that "radical liberals" have but one goal: "to bully Americans into abandoning their values, their heritage, and their very way of life." While he did not go into the specifics of the 1776 Commission's working curriculum, he did note that it would "encourage our educators to teach our children about the miracle of American history."
As Education Secretary Betsy DeVos noted on Thursday, the federal government cannot impose a national curriculum. But regardless, if you were wondering why "Hitler Youth" and "Trump Youth" were trending on Twitter today, it's because there's some notable historical precedent for this kind of "exceptional nation" rhetoric: