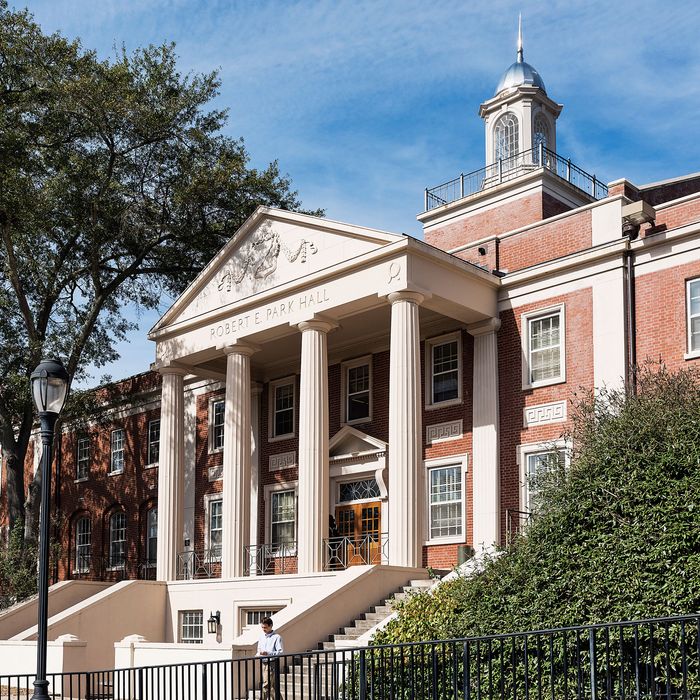 Photo: John Greim/LightRocket via Getty Images
The University of Georgia chapter of the Lambda Chi Alpha fraternity has been suspended after racist and otherwise disparaging remarks in some of its members' group texts surfaced. Several of the messages were focused on a Black student who had recently criticized the university and some of her peers for behavior that risked spreading COVID-19, including alleged parties thrown by Lambda Chi Alpha.
The comments were publicized in screenshots taken by Arianna Mbunwe, a junior political science major who was the subject of many of the frat members' jeers (Mbunwe is Black). In one GroupMe text conversation, a user with the screen name "Ghost of Aunt Jemima" wrote of Mbunwe, "[She] just sits in her room saying how white people are racist because she's mad she didn't get a bid." In another, someone wrote, "Lord give me the strength to not call that woman a racial slur." Someone sent a picture of Mbunwe with the accompanying text "What a foul, miserable creature."
According to UGA student newspaper The Red & Black, which first reported the news on Sunday, some members of a GroupMe chat for the fraternity chapter also made fun of one of Mbunwe's tweets which stated that the pandemic has disproportionately affected Black people, an assertion that has been affirmed by multiple reports and the Centers for Disease Control and Prevention.
Mbunwe has been outspoken about the UGA community's response to the COVID-19 pandemic, frequently posting examples of poor social distancing among students. Earlier this month, she posted "GETTING COVID-19 w the GIRLYS" in response to sorority sisters posing for photos at a bar without masks on. Elsewhere, Mbunwe had also written, "Lambda Chi it would be a shame if someone found out about your little parties," about a party the chapter allegedly hosted.
The UGA Interfraternity Council wrote in a statement on Sunday that it was aware of the frat members' comments and would be "self-suspending operations indefinitely" while the UGA Equal Opportunity Office reviews the university's non-discrimination and anti-harassment policy. The letter said the Greek Life Office would also "hold the organizations and individuals accountable" and called the students' comments "odious."
On Tuesday, Mbunwe posted on Twitter about an email she received from UGA's Equal Opportunity Office where the associate director, Kristopher Stevens, asked how Mbunwe would distinguish tweets she posted that were critical of "white sororities" and "white gays" from the racist messages she reported to the office. In her response, which she also posted, Mbunwe wrote, "It concerns me that you do not know the basic definition of discrimination … Further to my point you do not understand that reverse racism does not exist."
Mnunwe has also been speaking up about the university's handling of the pandemic, as have many students. UGA has reported at least 2,600 coronavirus cases since the campus reopened in mid-August, yet the university has continued to hold in-person classes. The school also has permitted thousands of students to attend football games, despite initially refusing to host in-person voting sites on campus, a decision it has since reversed.