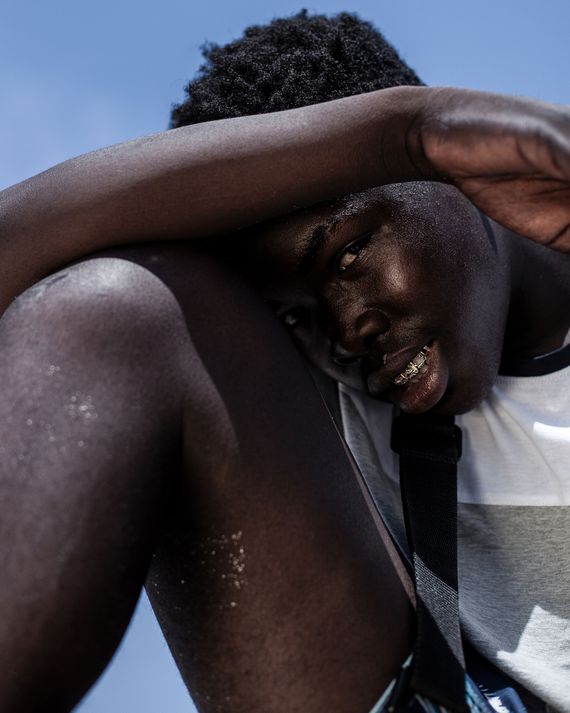 Anderson 2017— Nassau, Bahamas
Photo: Melissa Alcena
The Virginia–based independent publishing house Pomegranate Press is celebrating its fifth anniversary with the release of Under a Blanket of Stars, a group book showcasing the work of 12 artists. Pomegranate was founded in 2015 by then-20-year-old Orlando native Jesse Feinman. In the time since, the press's limited-edition publications have included an array of voices and works across writing, photography, and other visual media. This anniversary tome marks its 36th publication.
Growing up in the punk scene, Feinman had a passion for fanzines and their DIY approach to printed materials. When he found that Orlando had a lack of independent publishers putting out zines and small books, he decided to create his own, specifically to explore fine art. The press operated in Florida until two years ago, when it moved to Richmond. "The goal was to create a small publishing imprint that focused on photography and that was really good quality, but also very affordable and very accessible and very community based," said Feinman.
The collection, Under a Blanket of Stars, features work by emerging photographers Alexander Rotondo, Caroline Tompkins, Mark Sommerfeld, Rose Marie Cromwell, Dino Kuznik, Brendan George Ko, Melissa Alcena, Molly Matalon, Jack Bool, Andrés Vargas, Sofie Kjørum Austlid, and Simone Niamani Thompson.
When deciding whom to feature in the book, Feinman, who also designed the collection, went with familiar faces — friends and artists he had worked with in the past — to better create a genuine representation of Pomegranate. "I thought that there was no better way of doing that than to work with people who have rather directly or indirectly helped shape the press," he explained.
The book doesn't have one strict theme; he wanted each artist to exercise creative freedom. As a result, the collaboration spotlights sexuality and relationships, both topics Feinman wants to explore more with the press in the future. The book as a whole is meant to evoke positivity. "The overall meaning of the book is definitely one of warmth and hope and community and sort of togetherness … I think those are feelings a lot of people are grasping on to and wanting more of," said Feinman.
The title phrase, "Under a Blanket of Stars," originated as a slogan associated with the larger Pomegranate brand and has been featured on merchandise and used in various projects throughout the press's history. Feinman wanted for the title a "fantastical phrase" that evokes the sense of eutopia and beauty that the press hopes to present. "This book really grapples with celebrating the ordinary and celebrating everyday life, which I think is a hopeful approach," said Feinman. The 88-page full-color book was printed in Italy, and there are 300 first-edition copies. Feinman has no intention to reprint the book after it sells out. "Pomegranate definitely has specialized in very limited, sort of ephemeral objects," he said. "So once the 300 are gone, I think it will be gone for good."
Pomegranate Press is currently developing two new books, one a collection of works from Guatemalan photographer Juan Brenner and the other a community zine featuring the works of 40 artists, which will be sold at the cost of materials. Feinman hopes to hold gallery events and meet artists in person when it is safe to do so.
Keep scrolling to see a selection of images from the book.