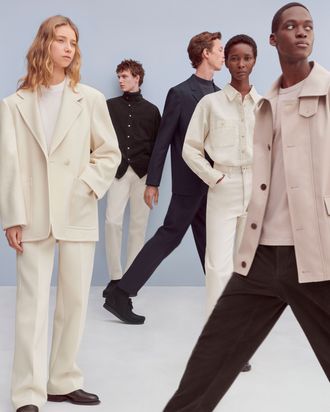 Photo: Courtesy of Uniqlo
Temperatures hit below 75 degrees in New York this week, which means it's time to pull those cashmere turtlenecks out from underneath your bed and give them a warm embrace, because fall is here, baby!
Well, sort of. Back-to-school season is obviously a little bit different this year. There's less to do and fewer people to see, but that doesn't mean you have to wear the same old sweatpants you've been sitting around in for the last six months. There's still some exciting new stuff to be had, and Uniqlo U's new fall 2020 collection could be strong enough to ward off your encroaching winter dread.
Designer Christophe Lemaire has been bringing his minimalist touch to Uniqlo since 2016, but this new collection feels particularly satisfying right now. A soft, white suit made of jersey blend, for example, is probably just as comfortable as any sweatsuit you own, but its sharp silhouette and color offers something lighter, crisper, and more optimistic. A padded trench coat from the collection is ideal for dining outdoors (and much sleeker than a puffer). And if you really want to stay in sweats, Lemaire also offers his version, which he styled with high-heeled boots and a turtleneck. Even when the pandemic is over, I might still wear this look to the office.
Below, the three best looks from the collection.
Uniqlo U fall 2020 hits stores at 9 a.m. EST on September 17. Preview the full collection, here.