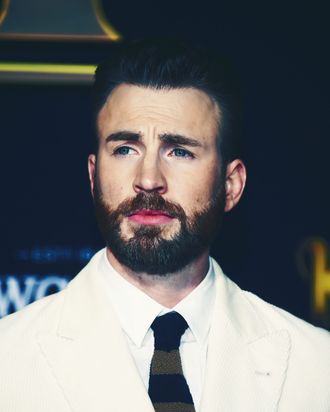 Chris Evans
Photo: Amanda Edwards/WireImage,
Over the weekend, Captain America star — and top contender for Best Hollywood Chris — Chris Evans shared what started out as an innocuous video of him and his friends playing the classic game of Heads Up! to his Instagram Story. But when the screen-recorded clip of the video minimized at the end, viewers got a fleeting glimpse of Evans's camera roll, which notably featured what can be best described as a tasteful photo of his genitals. Evans quickly deleted the Story, but the photo — presumed to be of him — circulated across social media, which then prompted impassioned calls to stop sharing the photo.
Thankfully, many people listened — and I say thankfully for two reasons. Obviously, Evans deserves to have his privacy respected. But also I'm grateful for these calls to stop talking about the nude because there is a much more interesting image contained on the camera roll: a smoldering photo of Evans himself, with slightly pouted lips and furrowed brows, emblazoned with the phrase "GUARD. THAT. PUSSY."
As the meme took off, it spawned its own flurry of memes:
Simultaneously, urgent questions arose: How did Evans come across this image? What exactly compelled him to save it to his phone? How does he interpret it: that it is his duty to guard pussy, or that people with pussies should don chastity belts in his presence, presumably because no one could resist his sensitive-bro vibes, his proclivity for touching his bulging pecs, his boyish grin? And, if he prescribes to the former sentiment, does he feel obligated to guard all pussies or just specific ones? Did he send this to Lily James?
Congrats to Evans on his new heroic role! Though I haven't seen Captain America, Guarder of Pussies seems like a much cooler assignment.