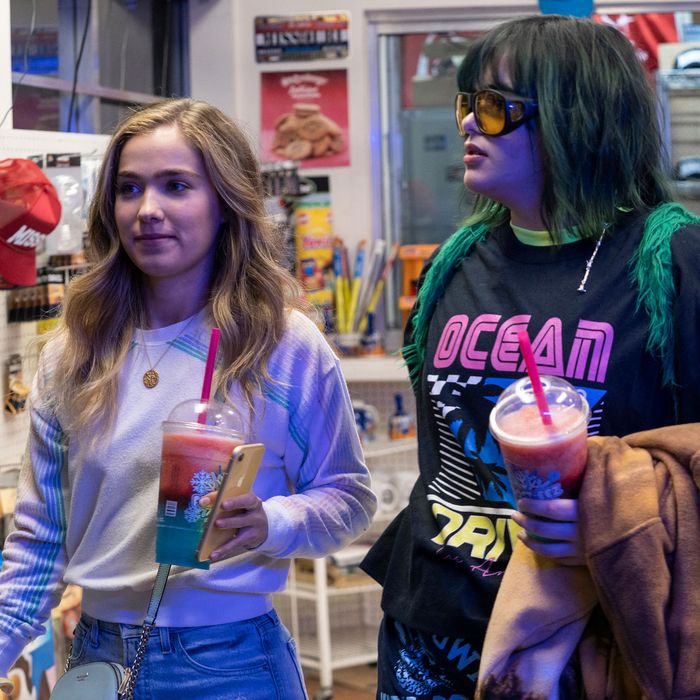 Photo: Courtesy of HBO MAX
The list of bummer abortion movies — wherein a terminated pregnancy is the center of an upsetting story line — is interminably long. Recent years have given us some great exceptions (Obvious Child, Saint Frances, Grandma) and the newest addition is coming to HBO Max today, September 10. (Some spoilers ahead.)
Unpregnant is one part road movie, one part buddy comedy. It stars Haley Lu Richardson as Veronica, a straight-A high-school senior who's all set to live out her Ivy League dreams when she discovers she's pregnant. Veronica must turn to Bailey (Barbie Ferreira), her grungy ex–best friend, to drive her to the closest clinic, which is nearly 1,000 miles away.
What ensues is a rollicking, genre-bending road trip with shades of Thelma & Louise and Fast & Furious. More than anything, Unpregnant feels like a funny hangout movie, but it focuses its humor on the outrageous measures often required in order to terminate a pregnancy. And when we finally get to the procedure itself — in a departure from the majority of films that deal with abortion, which are rife with inaccuracies — Unpregnant shows what happens when someone gets an abortion, clearly and scrupulously.
The Cut spoke to director Rachel Lee Goldenberg about her own experience with abortion, and why it was important to her to make a film that treats it not only as ordinary and essential, but normal.
Are reproductive rights and access to abortion something you've always been interested in?
It's become really important to me. I had an abortion years ago and didn't talk about it, and never questioned the decision not to talk about it. In the past few years I had the realization that that was its own political choice. So I made it my mission to start talking about it, and seeing what I could do to normalize and destigmatize it, because it was a right that I was really grateful to have.
Unfortunately, it's still sort of radical to use comedy as a vehicle to discuss abortion. Was it difficult to toe that line?
The comedy in the film comes from two main places. It comes from the odd-couple dynamic between Haley [Veronica] and Barbie [Bailey.] And the other main source of comedy is how difficult it is for Veronica to get the abortion that she wants. So most of the comedy in the road trip comes from the journey that they're taking, and it's using a comedic lens to say, Why is this so hard?
Were you inspired by other onscreen representations of abortion?
I'm glad so many movies lately have been tackling abortion. I'm grateful for it in all its forms. My preference would be that the whole idea of "abortion movies" was obsolete because access is easy and safe and available to everyone. But our references were everything: Thelma & Louise to Planes, Trains and Automobiles to Get Out to Fast & Furious.
So you weren't even really looking to so-called abortion movies.
Yeah. We modeled Veronica's costume journey after Thelma's. She had such a great arc of sort of going from hyperfeminine clothes to building a sort of tougher look. And when writing and directing a certain sequence [in which pro-life activists kidnap the protagonists] we relied heavily on Get Out.
I really loved how you showed the process of getting an abortion at the end, in the Planned Parenthood, just how it goes down and how chill it is.
In terms of how we present abortion in the film, Veronica's experience was such that the abortion itself was something that she was relieved to finally be able to get. That's the point. I myself actually used the abortion pill — but for me it wasn't a traumatic experience. It was an experience I was really grateful for.
I'm proud to be working on a project that will hopefully help destigmatize and normalize abortion. The majority of Americans support Roe v. Wade, and one in four people who can get pregnant will have an abortion in their lifetime. Everyone knows and loves someone who's had an abortion. I'm proud to be bringing this movie to people about a topic that I think should be talked about more in the light.