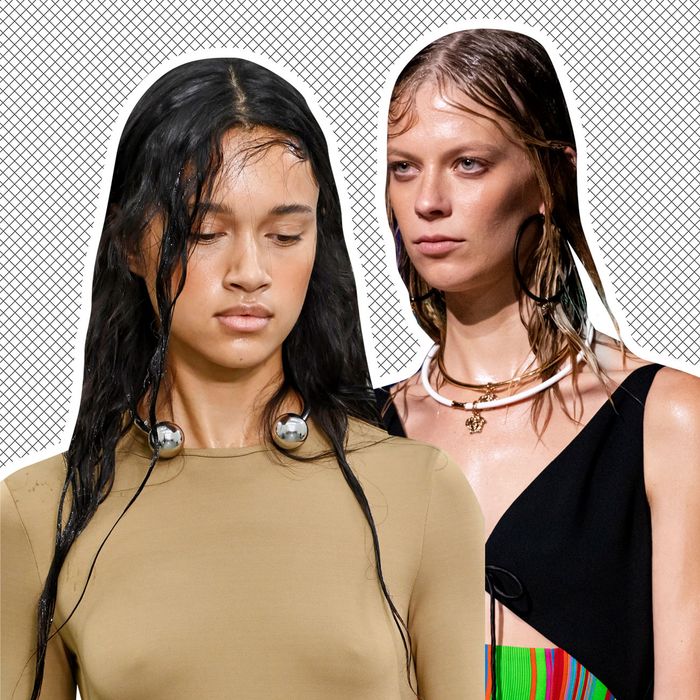 Wet hair at Sportmax SS21 and Versace SS21.
Photo: Getty Images
If dolphins, our slippery beauty icons, had hair on their heads, they'd probably be fans of all the wet-hair looks that walked at Milan Fashion Week spring 2021. Models wore hair that ranged from sopping-wet to kind-of-sweaty, adding some much-needed variety and versatility to the general "wet-hair look" we've seen gain popularity in the past. The timing of this resurgence couldn't be better — wet hairstyles are the perfect complement to all the moist-skin looks we can't seem to quit.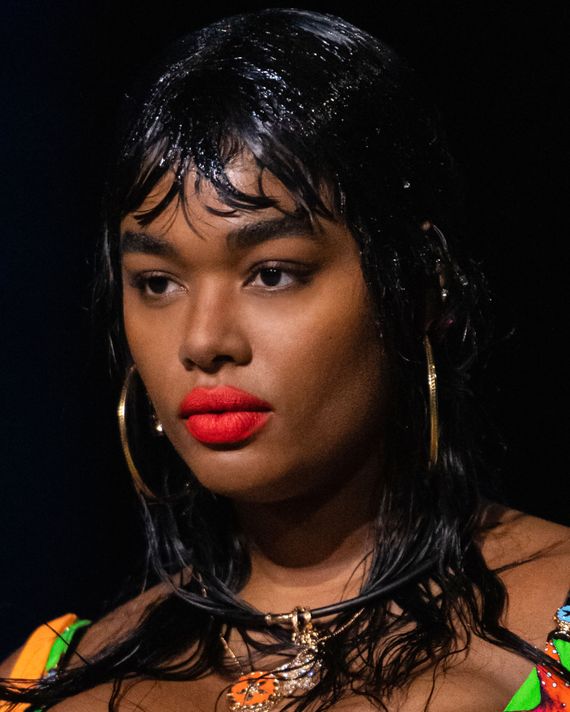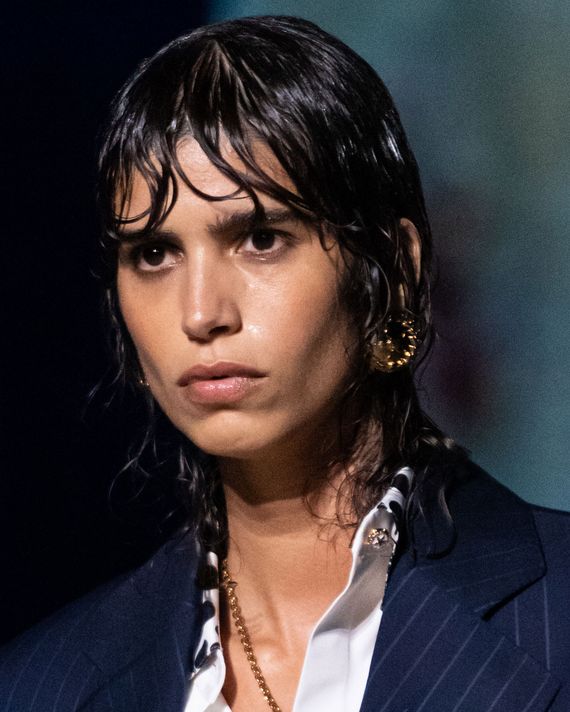 The wettest hairstyles were found at Versace's underwater-inspired "Versacepolis" show, which channeled "a utopian settlement on the seabed ruled by Medusa." Fittingly, all the hair here looked thoroughly soaked, and in a nice turn of events, bangs and face-framing tendrils weren't swept back. Instead, they hung front and center, just as they would on dry land.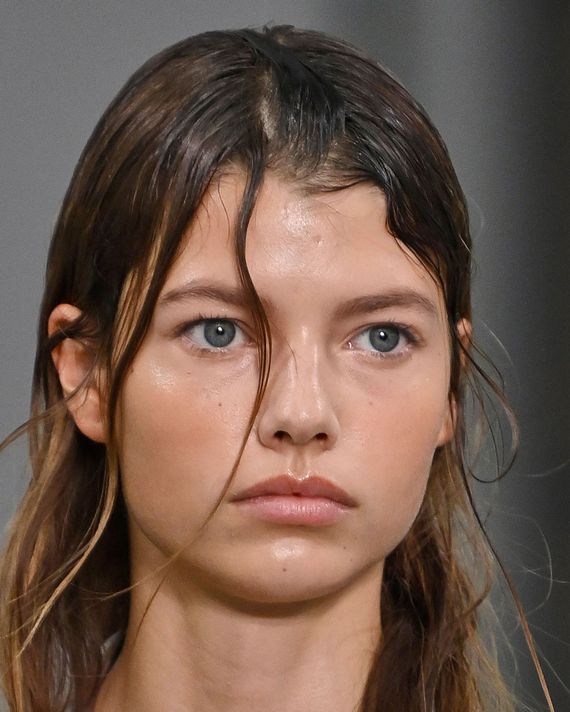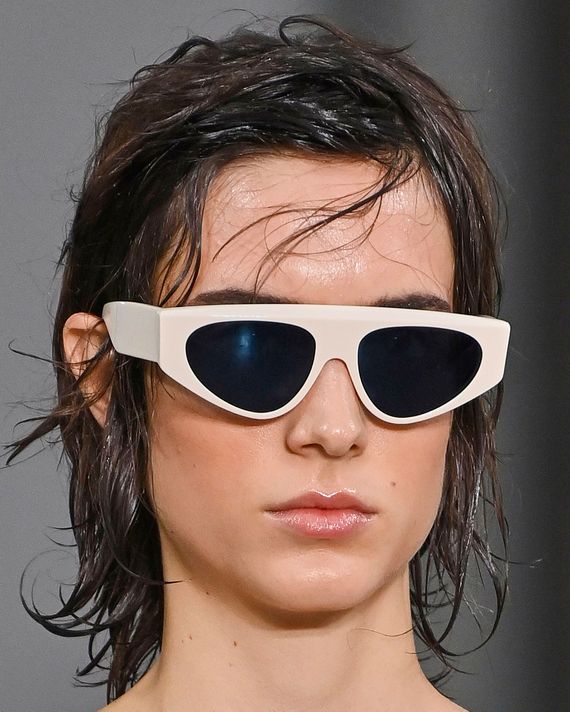 Sportmax's collection also drew from a watery source of inspiration — "the radiant beauty of Romy Schneider" in her role in the 1969 psychological thriller La Piscine ("The Pool"). This wet look skewed more damp, like the way your hair begins to dry in the sun as you lay out poolside. Wisps of hair were also matted to models' foreheads, which created a sweaty look, as if you were traipsing around somewhere extremely humid — or slowly cracking under the pressure of covering up a crime committed on vacation. Up to you.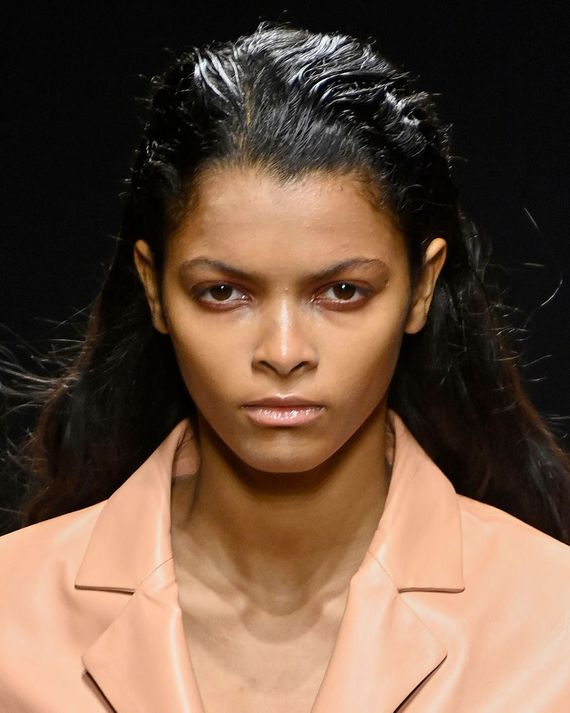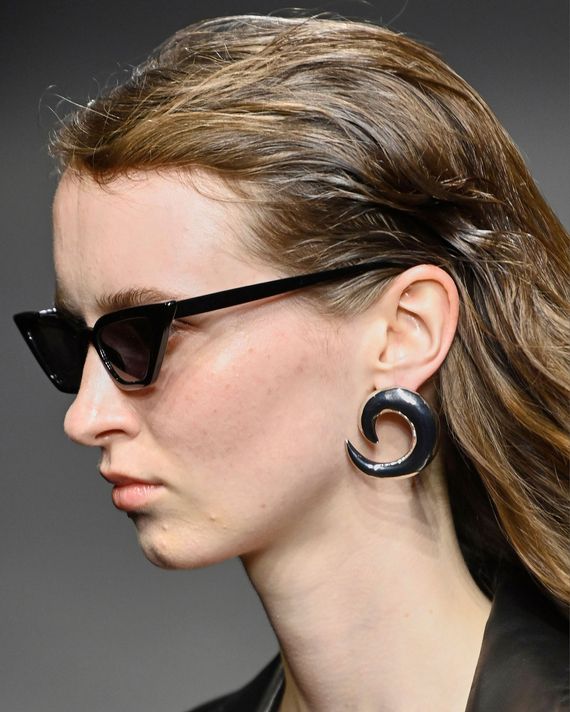 Drome's wet hair look was closest to the iterations we've seen in the past. Models' hair looked recently wet, but all of it was kept completely off the face for a cleaner look. This is a good option if you want to channel the refreshing feeling of just stepping out of the shower — or successfully completing an impressive hair flip like the one Ariel does in The Little Mermaid right after she gets legs.
Regardless of which wet look you go for, just know that you'll have to use more than water if you want the effect to last for longer than the length of a runway show. Hairstylists recommend using copious amounts of gel, wax, or K-Y Jelly to ensure your hair stays looking as wet as your face does all day.