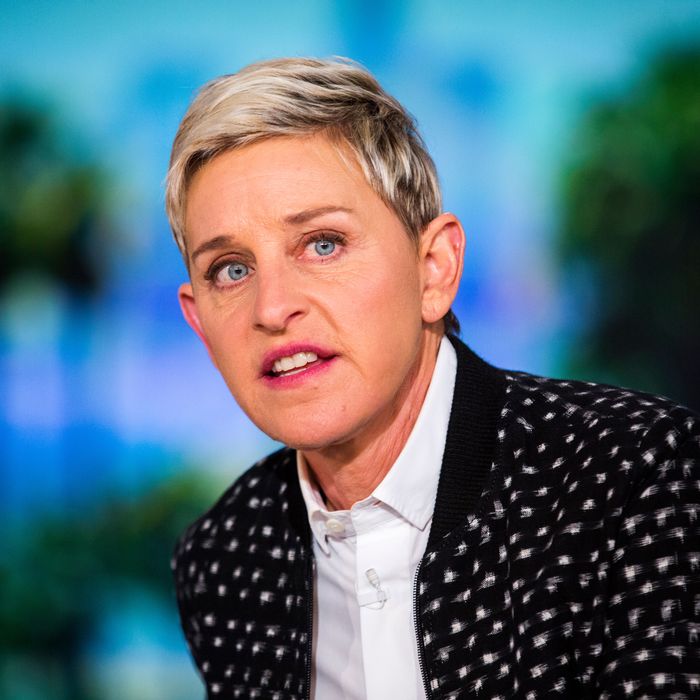 Photo: Brooks Kraft/Getty Images
Something is happening regarding The Ellen DeGeneres Show. That much is known. Even through the dark murder-hornet cloud of giant, history-making, and stupefyingly dumb news that overwhelms the senses each day, the knowledge that a Thing Is Happening with Ellen has filtered into the collective consciousness. Have you had time to figure it all out? Of course not. Would you like to know what it is? Why not. Add it to your brain's teeming pile.
The TL;DR of it all is that Ellen's cheery, feel-good façade is crumbling. For decades, DeGeneres built her brand on self-deprecating comedy, cushy celebrity interviews, and touching human-interest stories. The example of her own career — a gay woman playing the first gay lead on TV — served as an aspirational tale of personal growth and empowerment. Cracks in that smiley exterior have been showing for a bit already — remember when DeGeneres made the internet explode when she and partner Portia de Rossi were seen palling around at a football game with George W. Bush? Or when she had that extremely awkward confrontation with Dakota Johnson? There's also this Twitter thread with thousands of bad Ellen experiences. But most recently, multiple allegations of misconduct against her show's producers — including intimidation, racism, harassment, and assault — have caused total chaos behind the scenes, culminating in their termination. Concomitantly, many of the employees speaking out are holding DeGeneres directly accountable for fostering an environment with values antithetical to the one she most often professed as being important to the public: kindness.
Behold, the shitshow at The Ellen DeGeneres Show:
First, employees were reportedly outraged by DeGeneres and producers' lack of transparency during the pandemic.
In April, Variety reported that many employees on the show's core stage crew were furious at higher-ups' handling of the coronavirus pandemic and workplace issues. They claimed that when normal production of the show, which makes DeGeneres an estimated $50 million a year, shut down in March, they received no written communication about changes to pay, hours, or any inquiries about their health from producers for two weeks. When they finally did get an update, they were told they could expect a 60 percent reduction in pay even though the show was continuing to air, taped from DeGeneres's home. They discovered that WarnerMedia, which distributes the show, hired a nonunion tech company, employing only four of the 30 core crew members. A spokesperson said the show was committed "to taking care of our staff and crew and have made decisions first and foremost with them in mind," but employees told Variety that the lack of personal communication on behalf of executives, including DeGeneres, was hurtful.
Then, in July, over ten employees described The Ellen DeGeneres Show as a toxic workplace environment of "racism, fear, and intimidation."
On July 16, BuzzFeed News published a report in which one current and ten former employees of DeGeneres's talk show described numerous negative experiences, largely with the highest-ranking members of production but also with DeGeneres. They included accounts of allegedly being fired after taking medical leave for a suicide attempt and for taking bereavement days, and for being told not to speak to DeGeneres around the office. One employee was reprimanded for posting a GoFundMe to cover medical costs not covered by the show because it "might hurt DeGeneres's image," according to BuzzFeed. Another person said she complained about numerous offensive comments referencing her race and essentially walked off the job after she herself was reprimanded for being "resentful and angry."
In a joint statement, producers responded that they were "truly heartbroken and sorry to learn that even one person in our production family has had a negative experience. It's not who we are and not who we strive to be, and not the mission Ellen has set for us," they said. "For the record, the day to day responsibility of the Ellen show is completely on us. We take all of this very seriously and we realize, as many in the world are learning, that we need to do better, are committed to do better, and we will do better." By July 27, WarnerMedia had launched an internal investigation into workplace issues on the show.
Multiple former employees accused producers of sexual harassment and abuse.
A few weeks after its initial report, on July 30, BuzzFeed followed up with a devastating collection of accounts from more than 30 employees who painted a picture of The Ellen DeGeneres Show as a "place where sexual harassment and misconduct by top executive producers runs rampant." Accusers named top producer and head writer Kevin Leman, who was accused of grabbing a production assistant's penis, groping another production assistant, and making sexually explicit comments in the office. Leman denied "any kind of sexual impropriety." Another executive producer, Ed Glavin, was accused of being "handsy with women"; five employees said he touched them in ways that made them feel uncomfortable. He also reportedly sometimes used a private shower openly in view of employees and had an "intimidation" button on his desk that could shut his office door. Co-executive Jonathan Norman was accused of "grooming" one employee by taking him to concerts and offering him company perks before attempting to perform oral sex on him. Norman also said he was "100 percent categorically denying these allegations." As for whether DeGeneres herself was aware of any of the behavior described by the employees, some said producers would "insulate" her from the rest of the crew but also that she just "doesn't want to know."
What does Ellen say?
Hours before BuzzFeed's report of sexual misconduct on her show broke, DeGeneres sent a letter to employees apologizing for not maintaining what she said she wanted to be "a place of happiness – [where] no one would ever raise their voice, and everyone would be treated with respect. Obviously, something changed, and I am disappointed to learn that this has not been the case," she wrote. "As we've grown exponentially, I've not been able to stay on top of everything and relied on others to do their jobs as they knew I'd want them done. Clearly some didn't. That will now change and I'm committed to ensuring this does not happen again."
On August 17, on a staffwide Zoom call, DeGeneres announced that she had fired Glavin, Leman, and Norman, the three top producers accused of sexual misconduct, and was promoting DJ tWitch to co-executive producer, Variety reports. (The official line from Warner Bros. is that the company and the producers "parted ways.") Echoing sentiments she made in her earlier letter to staff, per the Hollywood Reporter, DeGeneres apologized for "what this has become," adding, "I've left this to be a well-oiled machine, and I realize it's not a machine … it's human beings."
In an email to staff on September 18, according to BuzzFeed, Warner Bros. addressed the scandal directly. WarnerMedia CEO Jason Kilar wrote, "I am both concerned and disappointed by public reports regarding patterns of unacceptable behavior that have been raised in recent weeks," regarding both the Ellen show and allegations of discrimination at TMZ, also owned by the company. The show is set to return on Monday, September 21.
Some celebrities are speaking out in her defense.
The list of high-profile celebrities who have taken to social media to say they have only had respectful experiences with DeGeneres continues to grow. So far, it includes Katy Perry, Diane Keaton, Samantha Ronson, Ashton Kutcher, and Scooter Braun. DeGeneres's wife, Portia De Rossi, received criticism for seeming to blame "bots" for amplifying the criticisms of DeGeneres in a post on Instagram, in which she used the hashtag "stopbotattacks."
But others are more critical …
Some celebrities, however, along with others who have been in DeGeneres's orbit, are speaking up to confirm employees' negative experiences with the host. Actor Brad Garrett tweeted that it "comes from the top" and that he knew more than one person "treated horribly" by DeGeneres, to which actress Lea Thompson replied, "True story." Tony Okungbowa, an actor who DJ'd on-air on the show as "DJ Tony," posted on Instagram that he "did experience and feel the toxicity of the environment." Ex-producer Hedda Muskat, who worked on the show in 2003, told the Wrap that DeGeneres had stood by while Glavin, then a new addition to the team, screamed at an employee. "I was waiting for Ellen to say something," Muskat recalled. "'Whoa, Ed, don't talk like that.' Do you know what she did? She giggled. She crossed her legs up on the chair and she said, 'Well, I guess every production needs their dog.' And from then we knew. Ed was going to be the barking dog — her dog."
This post has been updated.