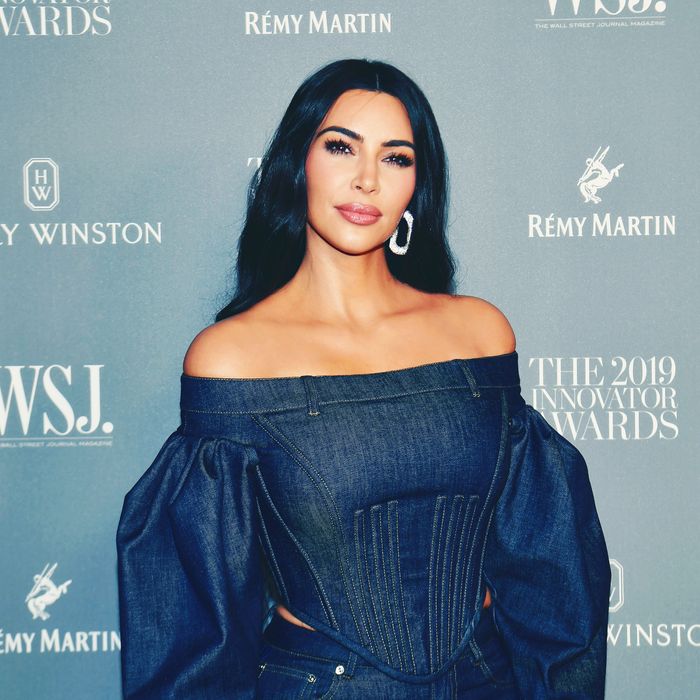 Photo: Angela Weiss/AFP via Getty Images
One small step for celebs, one giant leap for everyone getting the hell off social media?
This week several powerful celebrities with millions of followers each, including Kim Kardashian West, announced they would be participating in a 24-hour boycott of Instagram (which Facebook founder Mark Zuckerberg acquired in 2012) to protest the lack of corporate oversight that has led to the proliferation of misinformation and hate speech across these platforms. During the boycott, which began Wednesday morning, celebrities will freeze their Instagram accounts, abstaining from sharing photos and posting.
More than a dozen celebrities have signed on, demanding more internal and third-party oversight from Facebook and encouraging others to join them. Here's what we know about the Facebook boycotts.
How did the boycott get organized?
The boycott was organized by the Stop Hate for Profit Campaign, a coalition of nine civil-rights groups that includes the NAACP, the Anti-Defamation League, and Color of Change.
The Stop Hate for Profit Campaign previously persuaded more than a thousand companies to temporarily stop advertising through Facebook, some for the month of July, others indefinitely. According to the New York Times, Zuckerberg and Facebook's chief operating officer Cheryl Sandberg tried to appease the organizers by revving up their "powerful P.R. machine and agreeing to meet one of the group's ten or so demands: hiring an executive with a background in civil rights work."
Jim Steyer, the chief executive of the nonprofit Common Sense Media, which helped organize the campaign, told the New York Times that the freeze is just one of several demonstrations that are taking place during Stop Hate for Profit's "Week of Action." The boycott, Steyer posits, was "designed to keep up the pressure.
Why now?
Facebook has been criticized, investigated, and scolded for years over its apparent failure to effectively screen massive misinformation campaigns, stop promoting hate speech, and address privacy concerns and data-manipulation practices. But substantive change hasn't really happened as Facebook's power has grown.
"To use a favorite term of Facebook's leadership, Facebook's attitude towards seriously addressing how their algorithms push hate, violent conspiracy theories, and disinformation is transparently 'inauthentic,'" reads a statement from Stop Hate for Profit. "Mr. Zuckerberg … puts more effort into obfuscation, lobbying, and distribution of misleading talking points than seriously addressing the deadly consequences of his choice to profit from hate."
The campaign also referenced "Facebook's role in the Kenosha shooting" as a motivating force behind its week of action. Last month, a white man armed with an AR-15 semi-automatic fired into a group of Black Lives Matter protesters, killing two people. Beforehand, Facebook users had reported a self-proclaimed militia group on the platform — called the Kenosha Guard — for inciting violence. According to the Verge, the group had issued a "call to arms" before the protest, but Facebook didn't take down the group's Facebook page until the morning after the shooting.
Though not explicitly mentioned by the campaign, the boycott comes two days after BuzzFeed published a damning report based on materials provided by a former Facebook employee that found the social media company "ignored or was slow to act on evidence that fake accounts on its platform have been undermining elections and political affairs around the world."
What are the demands?
The campaign's demands center around issues of "accountability, decency, and support." They include establishing third-party company audits of "identity-based hate and misinformation" that are accessible to the public and removing groups that spread white-supremacist ideology, antisemitism, anti-vaccination conspiracies, climate change denialism, and false information about voting. The boycotters are also demanding that Facebook cease to use its algorithm to recommend hate speech. The campaign's website notes that these demands "are not sufficient, but they are a start."
Who is participating?
The most notorious poster freezing her account has got to be Kim Kardashian West, who has one of the largest Instagram followings in the world. On Tuesday, West posted on — where else? — Instagram: "I love that I can connect directly with you through Instagram and Facebook, but I can't sit by and stay silent while these platforms continue to allow the spreading of hate, propaganda, and misinformation – created by groups to sow division and split America apart – only to take steps after people are killed." West encouraged her followers to imitate her example and join the boycott.
Katy Perry, Sacha Baron Cohen, Mark Ruffalo, and Jennifer Lawrence are also supporting the campaign and participating in the boycott. A spokesperson for the campaign told the Times that at least 14 celebrities have signed on to date.
What has the reaction been?
Facebook has not publicly commented on the boycott. Meanwhile, the response on social media have been mixed. Many have reacted to celebrities' posts about the boycott with support and vows to join in, while others saw the action as a largely symbolic gesture, akin to posting a black square, and pointed out that the boycott would have more power if it lasted longer, or until the campaign's demands were satisfied.