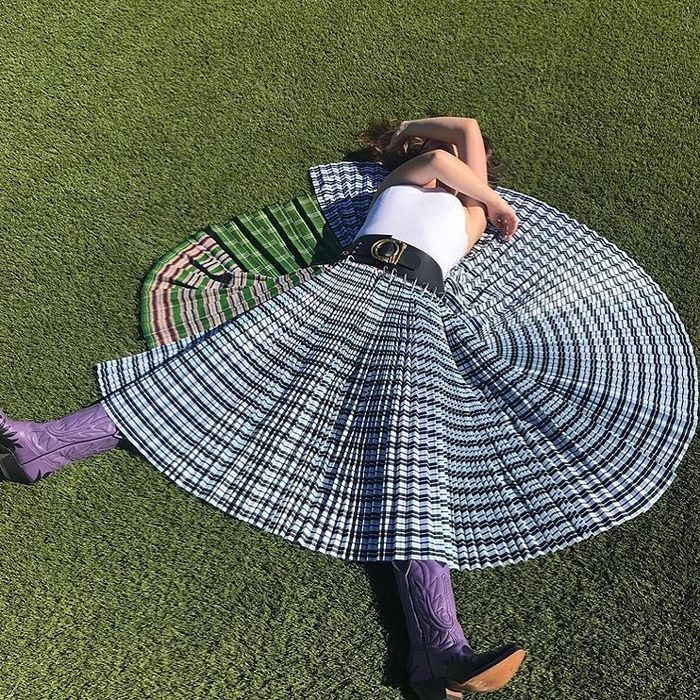 Photo: Courtesy of @skinnybonesjoans and @liladrew
Up until I discovered Chopova Lowena, I had no idea that what was missing from my life was a gorgeously plaid and pleated skirt. But look how cool this thing is. The compelling mix of plaids! Those satisfyingly crisp pleats! That effortless asymmetry! And the way it all hangs from carabiner clips attached to a harness-y belt! The brand's collection of one-of-a-kind pieces remix traditional Bulgarian garb into something avant-garde. Worn with one of their voluminous bell-sleeved blouses, it looks arty; with a basic T-shirt or sweater, it's simple and wearable.
London-based designer duo Emma Chopova and Laura Lowena are known to fashion insiders for breathing new, and sort of punk, life into overstock, deadstock, repurposed, and sometimes centuries-old fabrics. (In addition to being cool, this also makes them sustainable.) Lowena is British, and the one with the Bulgarian heritage is Chopova — she often works with Bulgarian seamstresses on the collections. Plus, she has a local team that "sources about 4,000 pieces of fabric each season, from lightweight tartan aprons to heavy blankets covered in swirling 1960s wallpaper patterns," according the the New York Times, making every single item special and unique.
Catch me this fall on my way to the grocery store in a Chopova Lowena skirt, a turtleneck, and fuzzy slippers. See two of our favorites below.
Chopova Lowena is part of Matches Fashion's Innovators Program.