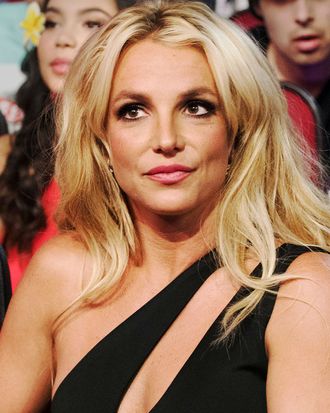 Britney Spears.
Photo: Image Group LA/Walt Disney Television via Getty
Recently, a familiar refrain has reverberated online — a call to #FreeBritney Spears, from … what, exactly? Is Britney Spears not currently free?
According to some fans, no; not while she remains under the legal conservatorship that, this faction believes, has effectively held her hostage for over a decade.
Since 2008, Spears — now 38 years old — has been under her father's guardianship, a decision attributed to her alleged "breakdown" over the previous year. For about as long as the arrangement has been in place, certain of her supporters have sought to extract her from it. The hashtag itself isn't new, but some believe that Spears has recently been sending coded messages via social media, pleading with her followers to help her escape. These fans have been petitioning the White House for an end to the conservatorship.
Meanwhile, Spears herself has remained largely silent on the subject. But on August 17, she filed a legal request seeking to change the conservatorship "substantially," and to block her father from returning as her custodian. And in early September, her lawyer requested that the proceedings be opened to the public, arguing that "transparency is an essential component in order for this Court to earn and retain the public's confidence."
"It is not an exaggeration to say that the whole world is watching," he wrote.
Wait, what is a conservatorship?
When a person is deemed unable to make their own decisions, typically because of mental incapacity, a court may grant that authority to a conservator. Basically, this person functions as a guardian, assuming control over the person's finances, or health matters, or — as in Spears's case — full legal responsibility for the adult's life. As such, Spears's father, Jamie, and an attorney, Andrew Wallet, have controlled her approximately $60 million fortune. Jamie reportedly negotiates Britney's business deals, too. Her court-appointed attorney, Stanton Stein, has insisted that Spears is "always involved in every career and business decision, period," but some fans don't buy it. Jamie Spears, who last year admitted that his relationship with Britney has "always been strained," had the power to control the visitors his daughter receives. So right now, the #FreeBritney movement's goal is to get the conservatorship lifted, or at least put her in a position to hire her own lawyer. Her next hearing will take place on July 22, with the temporary orders placed on the arrangement extended through August 22.
Why does Britney Spears have a conservator?
In 2007, Spears finalized her divorce from Kevin Federline, who applied for and won custody of their two children. Federline claimed that Spears had been behaving erratically — shaving her head; smashing the window of a paparazzo's car; a series of emotional, and highly publicized, incidents apparently triggered by intense, relentless media scrutiny — and abusing substances. In January 2008, Spears was involuntarily committed to a psychiatric hospital for a second time. Her father and Wallet were granted a temporary conservatorship in February of that year, which eventually became permanent. Jamie stepped down from the role in 2019, for "personal health reasons," and it passed to her care manager, Jodi Montgomery.
Do we know how she feels about the arrangement?
Spears's feelings about the situation seem to have oscillated over time. In 2008, a recording captured by Rolling Stone had Spears in the background, saying: "I basically just want my life back … I want to be able to drive my car. I want to be able to live in my house by myself. I want to be able to say who's going to be my security guard." And in 2009, she reportedly hitched a ride to an attorney's office with a paparazzo, with the intention of fighting the conservatorship.
But in recent years, Spears's career has undergone something of a transformation, thanks in part to a highly successful Las Vegas residency. In 2016, the New York Times reported that her conservatorship had grown into something more akin to a "protective bubble" than a "cage." The arrangement has become an "accepted fact of life," people close to the pop star said, that allowed her to focus on her music and her family. And a three-month investigation by the Los Angeles Times in 2019, which admittedly did not include comment from her "inner circle," found "no independent evidence that Spears was being harmed." In an Instagram post from April of that year, Spears asked her concerned fans to stand down: "You may not know this about me," she wrote, "but I am strong, and stand up for what I want!"
And still, since 2008, she has recorded and released new music — multiple studio albums and, most recently, the single Mood Ring — undertaken a massive world tour, and taken on hosting gigs. As Nylon notes, this all points to a functioning, working entertainer who is doing just fine. And yet Spears has remained beholden to other adults, allegedly even when she wants to do something as simple as leave her house.
So what is the #FreeBritney movement all about?
More or less as soon as the conservatorship fell into place, Spears's fans began rallying to reverse it. Over a decade later, that movement (yes, it's a movement; its members show up at court hearings in person, bearing signs, and they do some organizing) is going strong, having regained momentum in 2019.
Early that year, as Vulture has reported, Spears canceled her "Britney: Domination" Las Vegas residency, explaining that her father's recent hospitalization for a ruptured colon, which Spears said almost killed him, meant she needed to be with her family. This announcement appeared on her typically active Instagram account, which subsequently went dark. Then, Wallet requested to have his conservatorship revoked, warning of potential harm to Spears if his name remained on the arrangement. And! In April, Spears returned to Instagram, shared a post about self-care and taking "a little 'me time.'" Later that day, fans learned that she had been in a mental health facility for a week, having (allegedly) checked herself in for "emotional distress" in the wake of her father's health problems.
Shortly thereafter, an anonymous paralegal who claimed to have worked on the Spears conservatorship leaked a different story to the podcast Britney's Gram. What actually happened, this person said, was that Jamie Spears pulled Britney from residency rehearsal when she stopped taking her medication, placing her in the mental health facility months earlier than reports suggested. Britney subsequently hopped back on Instagram to tell fans "all is well," but to the subset who don't believe she is allowed to make her own content or post freely, those assurances were not uniformly convincing.
And why is #FreeBritney trending again now?
Throughout quarantine, fans believe, Spears has been sending coded messages through social media. The singer has been active (as ever) over the past few months, posting dance routines and workout videos (recall: the one where she burned down her gym) and inspirational quotes and, the #FreeBritney contingent claims, calls for help. As NME reports, Spears has appeared to respond to fans' prompts on a few occasions. For example, when she posted the below video of herself … mostly just walking back and forth in a yellow top, shortly after a fan told her to "wear a yellow shirt in your next video if you need help."
Similarly, someone also left a comment on one of her Instagrams telling her to "post doves if she was in trouble," and then she posted this. Of course, Spears's posts generate thousands of comments, and who knows how many (if any) she actually looks at.
And then, her former photographer leaked a letter he says Spears wrote to him in 2009 contending she was "lied to and set up" by her dad.
Still, Spears has not addressed the controversy directly, although she appears aware of the discourse. On the evening of July 23, she posted a video to Instagram in which she seemed poised to maybe, finally address #FreeBritney…but instead just rattled off a bunch of trivia. "A lot of you have been asking me more questions in the comments," she said, "so I'm here to answer all of your questions."
From this video, we learned that Spears's favorite Disney movie is Frozen; her favorite "movie-movie" is Ferris Bueller's Day Off; she goes to bed between 11:30 and midnight; her favorite flower is a rose; she was "probably" 17 when she got her first car; and she has gotten one (1) speeding ticket, ever. We did not learn how she feels about her conservatorship, a thing she conspicuously failed to mention despite fans' focus on it.
Now, however, she has filed a lawsuit seeking dramatic changes to the arrangement's structure.
What kind of dramatic changes?
Submitted by Spears's court-appointed lawyer, Samuel D. Ingham III, in Los Angeles Superior Court on Monday, the filing states that the singer is "strongly opposed" to having her father as her conservator. "Without in any way waiving her right to seek termination of this conservatorship in the future," it reads, per the Blast, "Britney would like Ms. Montgomery's appointment as conservator of her person to be made permanent." Meanwhile, "she strongly prefers to have a qualified corporate fiduciary appointed" to handle her estate.
Ingham broke her conservatorship down into three phases: "triage" following "a collapse, exploitation by predatory individuals and financial ruin"; her "performing years," in which Spears's team helped her "regain her position as a world-class entertainer"; and present. According to Ingham, Spears has no "desire … to perform at this time," and believes the conservatorship must "be changed substantially in order to reflect the major changes in her current lifestyle and her stated wishes."
"For many reasons, I have concluded that any effort to achieve my client's objectives as stated above will be aggressively contested by James," he wrote, according to the Blast. "Britney herself has expressed to me a desire that we associate an attorney or law firm with substantial expertise in handling contested litigation in a highly complex case such as this one through trial."
Still, in court documents filed August 31, Ingham reiterated that "this is a voluntary conservatorship," and Spears simply wants the latitude to nominate her own conservator.
Her attorney has also requested "transparency" around the conservator selection process.
On September 3, Britney's attorney filed more court documents, this time contesting Jaime's decision to keep all proceedings around the conservatorship sealed. Pointing to outside interest in the arrangement, Ingham argued that, "in large part, this scrutiny is a reasonable and even predictable result of James' aggressive use of the sealing procedure over the years to minimize the amount of meaningful information made available to the public."
"Britney strongly believes it is consistent not only with her personal best interests but also with good public policy generally that the decision to appoint a new conservator of her estate be made in as open and transparent a manner as possible," he wrote. "The sealing motion is supposedly being brought by her father to 'protect' Britney's interests, but she is adamantly opposed to it."
Further, Ingham said that, "at this point in her life when she is trying to regain some measure of personal autonomy, Britney welcomes and appreciates the informed support of her many fans." Indeed, he said, "In this case, it is not an exaggeration to say that the whole world is watching," and Britney does not want her father to "keep her legal struggle hidden away in the closet as a family secret."
What does her dad have to say about all this?
As of August 18, Jamie Spears had not responded to reports of the filing. On August 1, however, Page Six published his "exclusive" comments, classifying the #FreeBritney movement as a "joke," little more than a group of "conspiracy theorists." He also denied allegations that the conservatorship is simply a guise for him to steal from his daughter.
"All these conspiracy theorists don't know anything. The world don't have a clue," he told the outlet. "It's up to the court of California to decide what's best for my daughter. It's no one else's business."
Adding that he must meticulously document every expenditure Britney's estate makes, Jamie argued that it would be basically impossible for him to funnel any extra money into his own pockets. He also said that the family and Britney's team have been "stalked and targeted with death threats" as outrage over the arrangement has spread.
"It's horrible. We don't want those kinds of fans," Jamie said. "I love my daughter. I love all my kids. But this is our business. It's private."
This article has been updated.