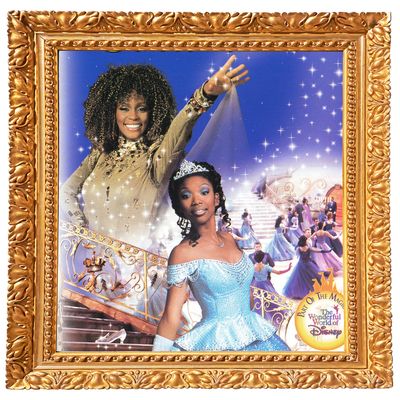 Photo: Disney, Getty Images
It has come to my attention that our streaming overlords have a glaring oversight in their supposedly premium suite of film offerings. I'm talking about the fact that none of them have Rodgers & Hammerstein's Cinderella, the 1997 TV movie starring Brandy Norwood as the titular character.
The absence of Brandy's Cinderella from streaming has been disturbing me for some time now. Growing up in the early 2000s, I would cancel playdates to catch it on ABC. My sister and I would sit two feet away from the television, close enough to feel the static, and scream along to the movie's breakout track, "Impossible," while eating Play-Doh.
Simply put, its current inaccessibility feels like a small personal tragedy. But it's also a public travesty, one that hit me again the other night when, during her Verzuz battle with Monica, Brandy couldn't sing "Impossible" because she apparently did not have rights over it. Other fans of the 1997 film feel similarly, and public pleas for Brandy's Cinderella are becoming increasingly desperate:
For those of you who are unfamiliar: Brandy's Cinderella is one of several live-action remakes of Rodgers and Hammerstein's 1957 musical and is famously known as the only Cinderella with a mostly nonwhite cast. In addition to its title character, Whitney Houston (who also executive produced the film) plays the fairy godmother, Filipino-American actor Paolo Montalban is Prince Charming, and Whoopi Goldberg plays his mom, the queen mother. There's even a Black evil stepsister, played by Natalie Desselle. And I know this sounds too good to be true, but in reviewing a bootleg version of this film, I noticed that even many of the extras appear to be BIPOC too.
I'm sure you're familiar with the story of Cinderella, but you haven't really experienced it until you've seen this version. Brandy, the stunning songstress herself, is the perfect princess; Whitney Houston is sublime and swathed in gold, and there's not a person alive who hasn't fantasized about finding someone to look at them the way Paolo Montalban looks at Brandy while serenading her. Seriously, look at his face:
Which brings me to the music. The soundtrack for Brandy's Cinderella is so effervescent, so magical, that it would have stood alone even without Brandy and Whitney Houston's legendary vocals. And with them it's incandescent. Of course the "Impossible" duet is the most iconic, but "In My Own Little Corner" is a timeout anthem for children of my generation, and don't listen to "Ten Minutes Ago" unless you're ready to call your ex.
I can't really overstate the impression this film had on me, specifically as a mixed-race child growing up in America. While colorblind casting is complicated, watching something on television that said families can look different, that royalty isn't lily-white and yellow-haired, affected me in a really powerful way. And many Black women and men have written about the influence Brandy's role had on them as young people; as Sesali Bowen put it in Refinery29 a few years ago: "I hadn't been able to dream up a Cinderella with braids or a fairy godmother with natural hair before 1997's Cinderella, and I know it meant the same thing for many other Black girls. It was one of the rare moments where we got to see ourselves in the fairytale."
Brandy's Cinderella is a cultural touchstone. It's canon. It's iconic. It's irreplaceable. But why isn't it accessible? Currently, there are several Change.org petitions seeking to rectify this mistake, so streaming services, I ask you now: Would you see an entire generation of young people miss out on this groundbreaking piece of cinema? Don't we need it now, more than ever?