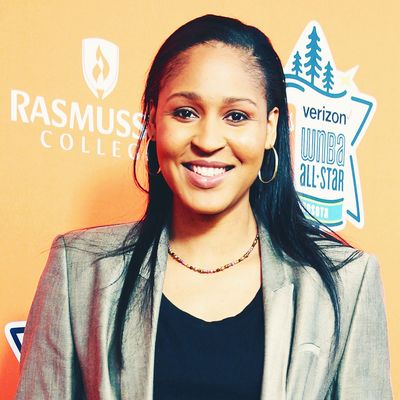 Maya Moore.
Photo: David Sherman/NBAE via Getty Images
Jonathan Irons had served 22 years in prison for a crime he didn't commit when he was freed in July of this year — thanks, in part, to the tireless advocacy of WNBA star Maya Moore, who shocked fans when she quit her team in 2018 to devote herself fully to the cause. But, as Moore and Irons revealed during an appearance on Good Morning America on Wednesday, there was more to the story: The pair fell in love while Irons was incarcerated and secretly married shortly after he was released.
"We are super-excited to continue the work that we are doing together, but doing it as a married couple," Moore told GMA anchor Robin Roberts. "We got married a couple months ago, and we're excited to just continue this new chapter of life together."
Moore is a WNBA superstar and Olympic gold medalist who led her team, the Minnesota Lynx, to four WNBA championships between 2011 and 2018. Fans were shocked when she decided to leave the Lynx at the end of the 2018 season. Moore was at the peak of her career, though she said she was feeling burned out. She was also deeply committed to helping free Irons, who she'd met through her family when she was 18. She wanted to advocate for criminal justice reform.
Irons, now 40, was just 16 years old when police arrested him in connection with a 1997 robbery and shooting that took place in O'Fallon, Missouri, a predominantly white suburb of St. Louis. As the Times reported, there were no corroborating witnesses, fingerprints, DNA, or blood evidence connecting Irons to the crime. And while prosecutors claimed that Irons had admitted to the crime, Irons denied ever having done so. The officer who claimed to have heard his admission failed to record the conversation in any way.
Moore and Irons grew close over the years; she helped pay for the defense team that finally got Irons's conviction vacated by a judge back in March. When Irons was released from the Jefferson City Correctional Center in July, Moore and her family were waiting for him outside. Moore, overjoyed, fell to her knees when she saw him.
Moore and Irons told GMA that they had developed romantic feelings over the 13 years they knew each other, and that Irons had first proposed to Moore when he was still in prison, but told her "don't answer right now."
"I wanted to marry her but, at the same time, protect her. Because being in a relationship with a man in prison, it's extremely difficult and painful," he said. "And I didn't want her to feel trapped. I wanted her to feel open and [to] have the ability any time … if this is too much for you, go and find somebody. Live your life. Because this is hard."
He proposed again in the hotel room after he was freed. "It was just me and her in the room and I got down on my knees and I looked up at her and she kind of knew what was going on, and I said, 'Will you marry me?' She said 'Yes.'"
Moore shared a picture of the couple's wedding on her Instagram later on Wednesday.
Moore and Irons are enjoying life together and continuing their advocacy work by collaborating on a "Get Out the Vote" campaign with the group Win with Justice.
Speaking over the phone to the Times back in March, after the judge overturned his conviction, Irons said of Moore: "She saved my life. I would not have this chance if not for her and her wonderful family. She saved my life and I cannot say it better than that."