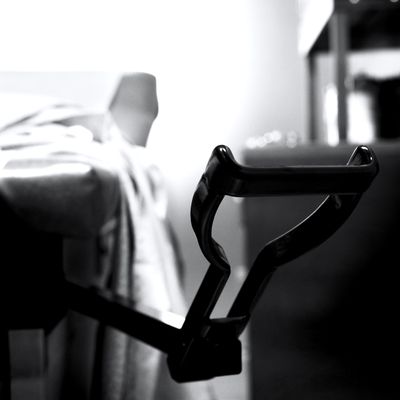 "It was like they're experimenting with our bodies."
Photo: Janis Christie/Getty Images
A gynecologist is giving detained immigrants hysterectomies without their full consent, according to a complaint filed by the nonprofit Project South. Dr. Mahendra Amin, who was first identified by Prism Reports, allegedly gave women under Immigration and Customs Enforcement (ICE) custody the procedure, in some cases without explaining the operation or speaking to them in their native language, according to Dawn Wooten, a whistleblower and former nurse at the Irwin County Detention Center (ICDC) in Georgia. (The story was first reported by the legal website Law and Crime.)
Wooten said the doctor gave a hysterectomy to a young woman who was supposed to have a cyst removed from her left ovary. A detained immigrant told Project South that she had the surgery despite telling a nurse "that the procedure isn't for me." (She said the medical professional responded by yelling at her.) After receiving three different responses from the doctor, an ICE officer, and a nurse about what was happening, she felt like "they were trying to mess with my body," according to the complaint.
Another immigrant at ICDC, who claims she spoke to five detained women who had been given hysterectomies without a proper explanation, called the situation "an experimental concentration camp. It was like they're experimenting with our bodies."
The complaint does not specify the number of women who were affected, but Dr. Amin forced at least 17 immigrants to have gynecological procedures, including hysterectomies, according to a press release from Rep. Pramila Jayapal (D-Wash.) ICE did not respond to the Cut's request for comment before publication. House Speaker Nancy Pelosi has called for an investigation into the allegations.
"Sterilizing immigrant women is yet another horror to add to the laundry list of mistreatment and abuse documented at ICE's private prisons," said Paola Luisi, the director of Families Belong Together, in a statement. "This is an unacceptable track record."
Immigrant detention centers, mostly run by for-profit prison companies, are notorious for subpar medical care. The issue has become even worse during the pandemic, and the Project South filing against the Department of Homeland Security (DHS) describes how immigrants at ICDC are denied COVID-19 tests, forced to live in unsanitary conditions that violate CDC guidelines, and put in solitary confinement if they advocate for basic human rights. But even before the outbreak, immigrant women's bodies have always been the target of medical malpractice and cruelty.
ICE has allegedly denied treatment to detained women with cancer, brain tumors, and breast cysts, and it has a history of policing their bodies. The Trump administration has been accused of tracking migrant girls' periods to prevent them from getting abortions, introduced a policy to deny pregnant women visitor visas, and literally ripped mothers apart from their babies during family separation. Azadeh Shahshahani, the legal and advocacy director for Project South, said women held at ICDC have said they are not given clean underwear which leads to infections and rashes.
She said detained women, who are mostly Black and brown, are in extremely vulnerable situations in which "they have no control over their bodies." "It's a very exploitative situation," Shahshahani said of the hysterectomies. "There does not seem to be informed consent … they had pretty much no say in what exactly took place."
Though Wooten, the nurse, says some women suffer from issues like heavy menstruation that might require the surgery, the high rate of procedures given to women at ICDC is suspect. She called the doctor accused of performing numerous hysterectomies a "uterus collector" in the lawsuit. "Everybody he sees, he's taking all their uteruses out or he's taken their tubes out. What in the world."
This article has been updated.