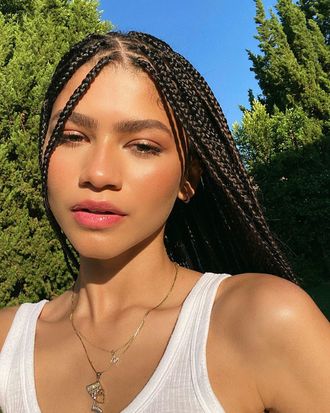 A self-portrait by Zendaya.
Photo: @zendaya/Instagram
Zendaya capped off Monday's holiday by giving the internet one more thing to celebrate. Last night, the Euphoria star unveiled a trio of awe-inspiring self-portraits across her social-media accounts — three perfectly lit golden-hour selfies featuring glowing skin, glossy lips, box braids, a blue sky, a white tank top, and angles so flattering to her in-demand face that it almost makes one want to attempt the risky upward shot with a front-facing camera.
The masterpiece selfies were posted on Instagram and Twitter sans caption — a fitting choice on the artist's behalf, considering many who cast their eyes upon the gleaming glory were left speechless. "I just —" Euphoria's Instagram account commented, accurately conveying the feelings of the 9,000-ish others who heart-ed the sentiment. Barbie Ferreira, Zendaya's co-star on the HBO series, simply alternated the face-screaming-in-fear emoji and the heart-eye emoji, a response that was liked by 10,000 people.
In under 12 hours, the Instagram post racked up similarly astounded comments in the tens of thousands, and over 9 million likes (it's currently sitting at 10.1 million likes, for now). Over on Twitter, the captionless images now have 2 million likes and have been retweeted about 349,000 times, give or take.
In addition to celebrating her photography skills, this month Zendaya also celebrates her birth, her first Emmy nomination, and the soon-to-be-released Dune trailer, which her co-star Lil Timmy Tim says drops tomorrow.