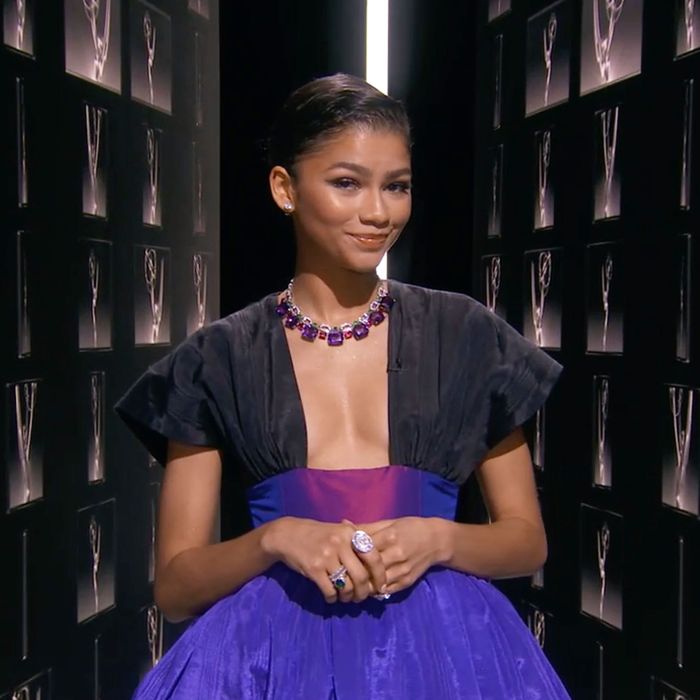 Virtual award shows are still pretty uncanny, but the continued presence of winners, losers, and fabulous outfits make them feel a little more normal — or as normal as Hollywood can be.
Case in point: Zendaya at Sunday night's first-ever Zoom-ified Emmy awards. The 24-year-old actor took home Emmy for Best Actress in a Drama Series for her excellent performance in HBO's new series Euphoria, making her the youngest actress ever to win the prize. She also did that thing where celebrities don multiple looks in a single evening, and was, for my money, the best dressed of the night.
To present an award earlier in the evening, she wore a silk taffeta gown by Christopher John Rogers in hues of purple and black. According to Us Weekly, she paired the look with Christian Louboutin shoes, Bulgari Jewelry, and a tastefully slicked-back hairstyle. The effect is cartoonish glamour, an Oompa Loompa crossed with the Cheshire Cat, but in the most elegant way possible. At certain angles, she evokes a beautiful potted plant and is lucky not to have had to shuffle all evening in her exquisite statement piece.
Next up, Zendaya wore a custom two-piece dress by Armani Privé to accept her Best Actress award. The dress's top was a bedazzled bralette, the bottom a billowing polka dot skirt — a familiar silhouette for Zendaya. Her hair transformed into a messier updo, snippets of bags and bun piled atop her head.
Two great outfits! Sheer sartorial euphoria.