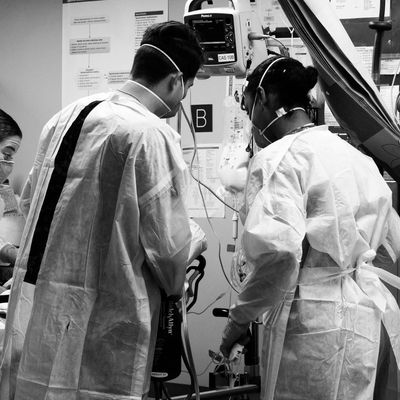 Photo: U.S. Navy via Getty Images
New evidence suggests that neurological symptoms among hospitalized COVID-19 patients are extremely common and that many people have lingering neurological impairment after they have been discharged.
A study published Monday in the journal Annals of Clinical and Translational Neurology, which analyzed the first 509 cases hospitalized within ten hospitals and medical centers in Chicago between March and April 2020, found that 82 percent of patients presented with symptoms stemming from the nervous system. These symptoms — some mild, others severe — included headaches, dizziness, disorders of taste and smell, and altered mental function.
Nearly a third of all patients observed in the study suffered altered mental function, known as encephalopathy, which can present as delirium, confusion, loss of short-term memory, problems concentrating, and unresponsiveness, the New York Times reports. Dr. Igor Koralnik, chief of neuro-infectious disease and global neurology at Northwestern Medicine and senior author of the study, told the Times that encephalopathy is "a generic term meaning something's wrong with the brain" and can include states of "profound unresponsiveness" akin to that of a coma patient.
The study also found that patients with altered mental function experienced worse medical outcomes, remaining in the hospital three times as long as Covid patients who didn't suffer severe neurological symptoms. Patients with encephalopathy were nearly seven times more likely to die as those without it. Dr. Koralnik said encephalopathy is "associated with higher mortality, independent of severity of [the patient's] respiratory disease."
Once these patients were discharged, many of their symptoms remained: Just 32 percent of them could complete simple daily tasks like cooking and paying bills, according to Dr. Koralnik. Among patients who had not suffered encephalopathy, 89 percent were able to perform such tasks.
Researchers also found that younger patients were more likely to develop neurological symptoms overall but that older people were more likely to develop encephalopathy in particular. The researchers proposed that perhaps these milder neurological symptoms got more attention when presenting in younger people, either because they were more likely to seek care for these symptoms or because doctors could better focus on these symptoms because they were less concerned about the younger patients' risk of respiratory failure.
The study did not indicate how the virus causes encephalopathy, although Dr. Koralnik said it is sometimes brought on by other diseases, such as those that cause inflammation and changes in blood circulation, especially in older patients. Most medical experts think the virus doesn't attack brain cells directly, since there is very little evidence of this, but rather that the neurological symptoms so many patients experience are a by-product of immune-system responses and inflammation.