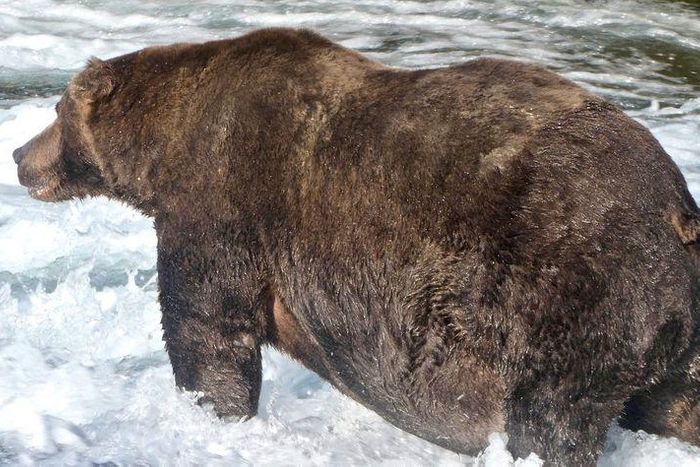 Big, beefy boy.
Photo: NPS
Friends, enemies, gather 'round, we have a victor to celebrate. After receiving more than double his opponent's votes, an impressively large bear boy has been crowned the winner of this year's Fat Bear Week tournament at Katmai National Park: Let's give it up for number 747, the stately "Earl of Avoirdupois."
While the lady brown bears have cinched the title the past two years of this annual bracket-style competition, in which the public votes on our favorite of the park's beefy brown bears who've bulked up in preparation for hibernation, this year's competition came down to two fellas: Earl of Avoirdupois and Chunk. And what a face-off that was. At a staggering 1,400 pounds, Earl is one of the biggest brown bears who patrols Brooks River, and is known to use his size to get the best fishing spots; he also came in second place in last year's competition behind Holly. But Chunk was no easy opponent: Although Katmai notes that he's been a bit more gentle in recent days, Chunk, who comes in at 1,100 pounds, sits at "the top tier of the bear hierarchy."
But only one girthy boy could come out on top, and this year, Earl didn't have to settle for second best. "The votes are in!" Katmai announced last night on Twitter. "You've crowned the Earl of Avoirdupois, bear 747, the 2020 Fat Bear Week Champion. No longer the runner-up, 747 fulfills the fate of the fat and fabulous as he heads off to hibernation." And the race wasn't even close: To Chunk's 21,900 votes, Earl received more than 47,300. However, let us reiterate that there are no losers in Fat Bear Week.
Ahead of hibernation, I hope Earl allows himself to celebrate — perhaps by taking a quick splash in Katmai's "jacuzzi or the far pool," where the park notes he is often found. And I hope he enjoys the new title the U.S. Department of the Interior has bestowed on him: "The king of chonk." While the "thicc otter" might like to have a word, you cannot dispute that Earl is undeniably, majestically large.