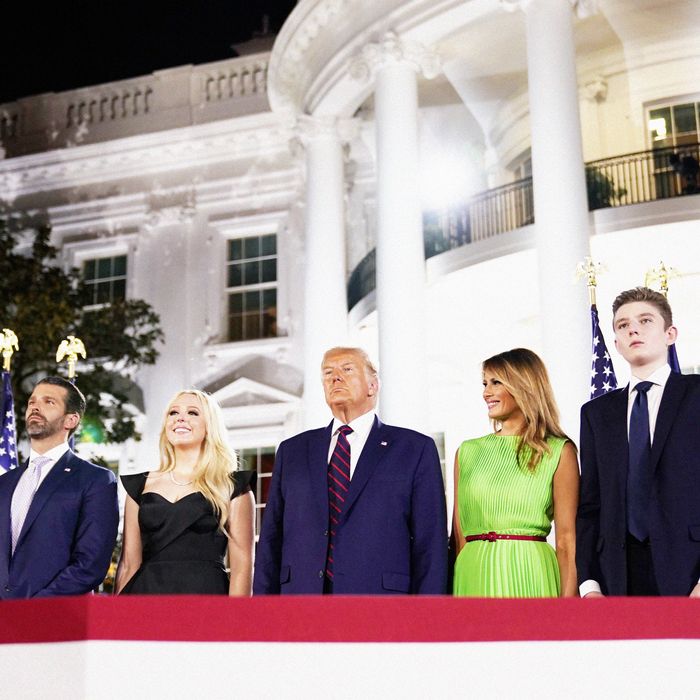 The list of friends, family, colleagues, and associates of Donald Trump finding out they have COVID-19 is getting longer, as the White House has been revealed as a possible pandemic petri dish — more than a dozen of those who are testing positive for the virus were at a ceremony at the White House Rose Garden on September 26.
While many others — including Vice-President Mike Pence and Democratic presidential nominee Joe Biden — have come out to say they just tested negative for coronavirus, it can take up to two weeks to incubate in the body before being picked up by testing. Since the White House event, many prominent Republicans have mingled — often maskless — at the presidential debates and at fundraisers in New Jersey and Minnesota; the list will very likely get longer. A White House staffer and three journalists in the WH press pool, and two members of the White House housekeeping staff have already tested positive as well.
Below, a running list of Trump-related persons who have test positive for coronavirus:
Hope Hicks
Senior adviser Hope Hicks was the first person diagnosed in the inner circle, on Thursday, after spending several days in close proximity with the president. Per the New York Times, "officials at the White House have known about Ms. Hicks's likely diagnosis since Wednesday evening, when she traveled with the president aboard Air Force One to Minnesota for a campaign rally in Duluth. One person familiar with the events on Wednesday said that Ms. Hicks began exhibiting minor symptoms around the time of Mr. Trump's rally, and that she was quarantined on the return flight to Washington and then disembarked from the back entrance of the plane."
Ronna McDaniel
Republican National Committee Chairwoman Ronna McDaniel apparently tested positive on Wednesday. The last time she was with the president was Friday, she says.
Donald Trump
Trump confirmed Hicks's diagnosis on Hannity on Thursday night, and added that he and the First Lady had been tested. "She wears masks a lot," he said, "but she still tested positive." Within three hours, he and Melania Trump had tested positive too. Trump's condition is unknown, but Mike Pence led a call with governors that was scheduled for Trump in his place on Friday morning. The White House gave a statement on his condition, that he and Melania have "mild symptoms."
Over the weekend, the official messaging on the president's condition vacillated, with Trump's medical team saying that the president was "doing very well" and his chief of staff separately stating that his "vitals over the last 24 hours were very concerning." On Sunday, Trump's doctors clarified that the president had a "high fever" on Friday, and that his oxygen saturation levels dropped on Friday and on Saturday. He was given oxygen on Friday, and received the steroid dexamethasone on Saturday. The World Health Organization only recommends that treatment course for people with "severe and critical Covid-19."
Melania Trump
Melania Trump tested positive with her husband. She tweeted, "We are feeling good." In a video message shared Saturday, Trump suggested that the First Lady is doing better than he is, and handling her diagnosis "very nicely."
Republican Senator Mike Lee of Utah
Lee tested positive on Thursday, after which footage circulated of the senator, maskless, hugging and meeting with people at the White House SCOTUS event. The Hill reports, before being tested, "He met with Judge Amy Coney Barrett, President Trump's Supreme Court nominee, on Tuesday, took part in closed-door GOP caucus lunches and was at the Senate Judiciary Committee's business meeting on Thursday."
Father John Jenkins
The president of Notre Dame University, also at the White House on Saturday, tested positive on Friday. He was criticized for attending Barrett's nomination announcement without a mask.
Kellyanne Conway
Late on October 2, former White House advisor Kellyanne Conway tweeted that she, too, had tested positive. "My symptoms are mild (light cough) and I'm feeling fine," she said. "I have begun a quarantine process in consultation with physicians." She attended the Rose Garden ceremony last weekend, without a mask.
But before Kellyanne issued her official announcement, her daughter — teenage Trump opponent Claudia Conway — shared the news on TikTok. "Update my mom has covid," she wrote. "im furious. Wear your masks. dont listen to our idiot fucking president piece of shit. protect yourself and those around you."
Chris Christie
Former New Jersey Governor Chris Christie reportedly received his positive test results on Saturday, and because he has asthma, checked himself into a hospital as a precaution. Christie says he is not having any problems breathing, but has been given a remdesivir treatment course. He reportedly helped the president with debate prep on Sunday and Monday, during which no one wore masks. He also attended the Rose Garden event.
Republican Senator Thom Tillis of North Carolina
Thom Tillis also tested positive on Friday, and has reportedly been asymptomatic. He plans to quarantine for 10 days and is informing his contacts of the infection, according to the Associated Press, which says he wore a mask at the Rose Garden ceremony. According to a photo published by the New York Times, however, he appears to have removed his face covering for a reception inside the Oval Office, where he spoke to Barrett at close range.
Republican Senator Ron Johnson of Wisconsin
Ron Johnson reportedly got a test on Friday and shared his positive results on Saturday morning. In the interim, according to the Daily Beast, he attended an Oktoberfest fundraising dinner in Madison, Wisconsin. The senator said yesterday that he continues to "feel fine" and "completely normal," and stressed that he he only removed his mask to give an address at the dinner, for which he allegedly stood "at least 12 feet from anybody."
Bill Stepien, Trump campaign manager
Trump campaign manager Bill Stepien received his positive results on Friday evening, when he reportedly exhibited "mild flu-like symptoms." Stepien traveled with Hicks and the president to the first presidential debate in Cleveland last week, and told campaign staff on Friday morning that anyone "who has had exposure to someone testing positive should immediately begin self-quarantine."
Nick Luna, Trump's bodyman
Nick Luna, White House aide and "personal attendant" to Donald Trump was diagnosed with coronavirus a little over 24 hours after the president was admitted to the hospital.
Kayleigh McEnany
White House Press Secretary Kayleigh McEnany announced she tested positive on October 5. She said she was not experiencing symptoms.
Chad Gilmartin, Karoline Leavitt, and Jalen Drummond
Gilmartin and Leavitt, two of McEnany's assistant press secretaries, have also tested positive, as has Jalen Drummond, reportedly, a third assistant.
Pastor Greg Laurie
New York's Olivia Nuzzi reports that Pastor Greg Laurie, who attended the Rose Garden event, has California tested positive. Laurie was also at the Prayer March on the Mall with Mike Pence that took place on the same day.
Admiral Charles Ray
Ray, a vice commandant of the US Coast Guard, was reportedly at the White House the day after the September 26 Rose Garden ceremony, and tested positive on October 5. As a result, several of the country's top military officials including the Joint Chiefs will quarantine.
Stephen Miller
Miller, a top White House aide, said in a statement that he tested positive for the coronavirus on October 6, after "working remotely and self-isolating, testing negative every day" for five days. Miller reportedly helped Trump with debate prep and flew with him to Cleveland, then to campaign events in Minnesota, aboard Air Force One last week.
Barron Trump
Melania Trump announced in a statement on October 14 that Barron Trump had tested positive for coronavirus sometime after she and Donald Trump did. "Luckily he is a strong teenager and exhibited no symptoms," she wrote. "In one way I was glad the three of us went through this at the same time so we could take care of one another and spend time together. He has since tested negative."
This article has been updated.