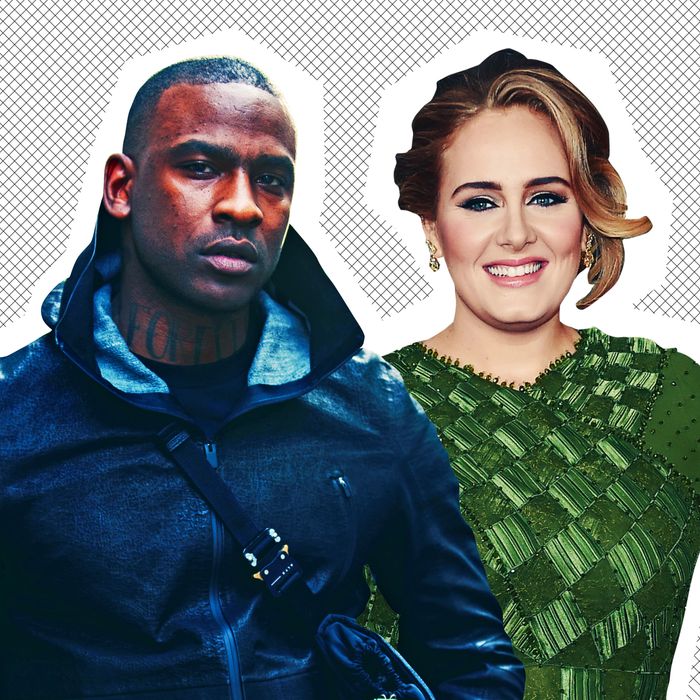 Skepta and Adele.
Photo: Getty Images
Last October, we began to suspect that Adele and Skepta were a thing, based on a report from the British tabloid the Sun that said the musicians had been spotted on "a series of dates." And then! This morning, what feels like 700 months later, People magazine had its own report on the rumored British union, alleging that the two were not only in a relationship but that things were "heating up."
"They run in the same circles in London, and she's having fun," a source "close to Adele" told People. Having fun, you say?
Sadly, it is apparently not that kind of fun. Hours after People made it seem like Adele and Skepta were definitely kissing and maybe even in love, Adele appears to have addressed the report in a roundabout way. In an Instagram post about hosting this past weekend's episode of Saturday Night Live, she concluded her caption, "Happy Halloween! I'm going back to my cave now to be the (single) cat lady that I am! Peace out til next year."
What fools we are for the classic mistakes we have made: seeing what we wanted to see — which is to say, misinterpreting Adele and Skepta's platonic love for romantic love — as well as putting too much trust in tabloid reports. But now that we know the truth, we can celebrate their relationship for what it is: a very, very nice friendship.
Recall when, in May 2016, Adele tweeted a photo of Skepta with the caption "Tottenham Boy ❤️." Skepta claims that message convinced him to keep pursuing his music career when he was feeling particularly discouraged. "[Adele] gassed me up," he told the IBTimes UK. "One day I was just chilling and she [tweeted] a picture that said 'Tottenham boy' and she's from Tottenham as well. I was actually going to quit music that day, that was one of the sickest things ever. She's like the lady of Tottenham and she called me 'Tottenham boy.'"
Later that year, Skepta further opened up about his friendship with Adele, telling the Evening Standard magazine, "Adele texts me all the time and keeps me in check. She speaks to me about how things are going."
Then, last October, the Sun reported that the Tottenham natives were spending more time together following Adele's split from ex-husband Simon Konecki in April, which happened to be six or so months after Skepta and Naomi Campbell had called it quits.
So perhaps they are not in love love, but this sort of platonic intimacy is often harder to come by. Cheers to the loveliest of friendships!