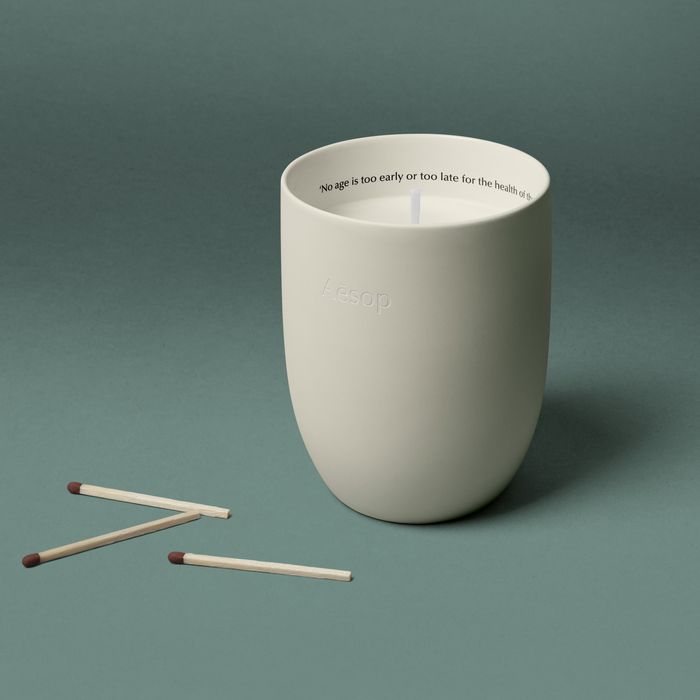 Photo: DANIEL HERRMANN-ZOLL/Courtesy of Aesop
Aesop has a cult following for many reasons, one of which is the brand's ability to make anything smell good. Your neck can smell like a stoic Japanese forest; your dry hands, like Big Sur; even a lowly turd is transformed into a citrusy bouquet with a few drops. Such magical potions are nice, but the brand is finally giving the people what they want: aesthetically pleasing Aesop-scented candles.
The brand just launched their very first ones: Three Aromatique candles formulated in collaboration with perfumer Barnabé Fillion, who helped develop the brand's Marrakech Intense, Hwyl and Rōzu fragrances. The candles come in Aesop's signature minimalist packaging — reusable alabaster ceramic vessels with a quote on the inner lip — and each one is named after "an ancient stargazer of note."
There's Ptolemy, which has smoky, deep green notes of cypress, cedar and vetiver, and is named after the Greek-Egyptian scholar who catalogued the stars. Aganice smells of bright, floral mimosa, and spicy notes of cardamom and tobacco, and is named for the first female astronomer of Ancient Greece. And Callippus smells of frankincense and earthy Vetiver, and is named after the Greek astronomer, mathematician, and close observer of planetary movements.
Just like the stars that map the sky, explain our character flaws, and gently remind us of our insignificance in the vastness of the universe, the candles are meant to convey a sense of comfort, shifted perspective, and illumination. The scents "engender a sense of equanimity and refuge from workaday concerns," as Dr. Kate Forbes, the company's innovation director, put it in a statement.
So the next time you need to escape your inbox or brain-melting Zooms, let a calming celestial candle help put things in perspective. Strike a match to cheer on that asteroid headed our way, or move your candle from room to room as you fantasize about all those other, better planets out there for the inhabiting. Or simply close your eyes, inhale, and take refuge in the fact that at least the home you're stuck in smells way better than meaty outer space and the poop-littered moon.