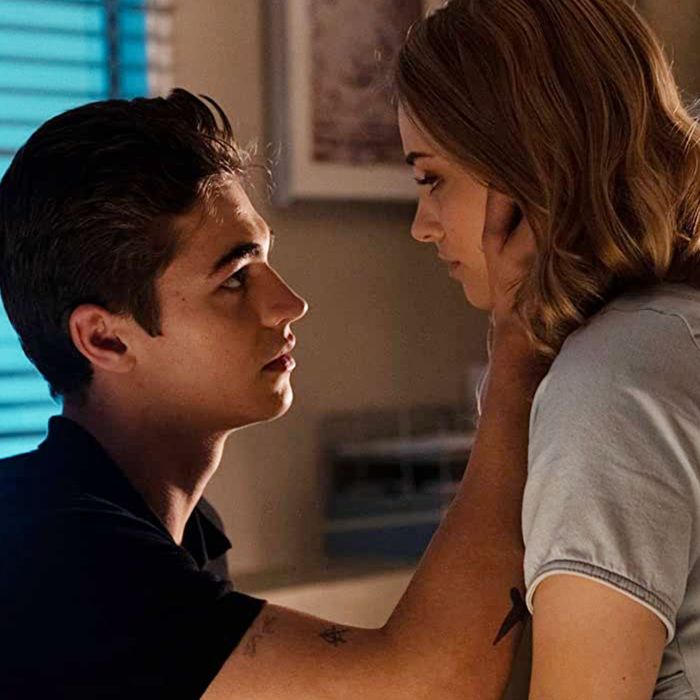 Photo: Open Road Films/IMDB
I'm not a person who has guilty pleasures — I think the idea is silly, and I am pretty good about owning up about all the awful things I really, truly love. But I do have a dark secret, one that I'm not exactly embarrassed about, but I'm not exactly proud of either. And if you know me at all, it's no surprise: I'm a huge fan of the After franchise, a series of books — and now movies — that began as Harry Styles fanfiction.
When I stumbled upon the film version on Netflix last year, I was stoned and with an ex. I knew I loved Harry Styles, but we decided to go for it. I was truly gobsmacked — God do I love a terrible teen movie, but this truly even tested my low limits.
In fanfiction, there's always a leading lady, usually a cipher the reader can project herself onto. In the After series, that's Tessa — a college freshman who's immediately drawn to Hardin, a heavily tattooed British bad boy who secretly has a full knowledge of literature. They have a hot-and-cold, wildly passionate romance in which it's eventually revealed that Tessa was a mere bet between Hardin and his friends, a teen plot device I assumed had ended in the early aughts.
It's an amalgamation of every bad teen trope — from the blustery angst of Hardin (Hero Fiennes Tiffin) to the annoying naiveté of Tessa (Josephine Langford), and the occasional teen stars of yesteryear who pop in to play parents teaching their kids a lesson. (Selma Blair plays Tessa's mom!) Hardin's relation to Harry Styles is thin at best — the only things he has in common with him are his many tattoos and British accent. Despite all of that, After stirred something in my teen lizard brain — the unrequited longing, the totally stupid fights, and the willingness to believe a 19-year-old could plausibly live in a loft with a claw-foot bathtub in it. I loved each of its 106 minutes.
To say I was excited for the release of the film's sequel would be an understatement. Available today in theaters and on demand, After We Collided picks right up where we left off — after Tessa finds out about Hardin's betrayal and embarks on a summer publishing internship that conveniently introduces her to a crushable co-worker played by Dylan Sprouse (twin brother of Cole). But you know, this kind of love can't be squelched by an appealingly nice guy in a button-down! Tessa and Hardin's attempts to be friends go wildly wrong, mostly because no one involved can keep their hands to themselves. Under the new direction of veteran teen-film director Roger Kumble, who directed the classic Cruel Intentions, After We Collided looks a hell of a lot better than its predecessor and also aggressively ups the ante on the physical aspect of Tessa and Hardin's relationship. Basically, if you thought the first one was horny — the sequel manages to out-horny itself. Honestly, I'm not quite sure what the plot of After We Collided is — it's very much a continuation of Hessa's (their shipper name obviously!) maddening relationship — but yet again I loved every insane, horny, absolutely completely unrelated to Harry Styles goddamned minute.