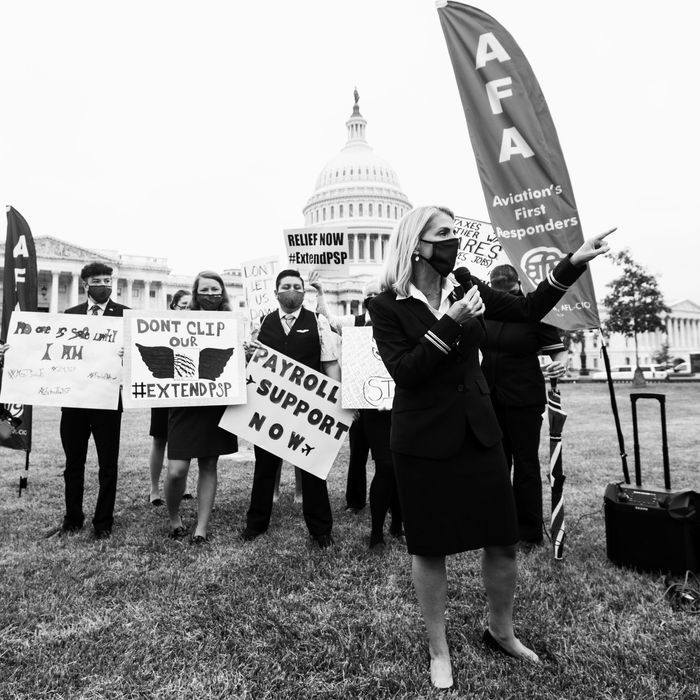 Photo: Bill Clark/CQ-Roll Call, Inc via Getty Images
As of 12:01 this morning, tens of thousands of airline workers are on the brink of being furloughed, and tens of thousands more will be laid off completely — without a paycheck and without health insurance. 
At midnight last night, payroll-support protection for airlines provided by the CARES Act expired. Up until the very last minute, industry and union leaders were pleading with Congress to pass an additional stimulus package before the deadline, but lawmakers were unable to reach an agreement. Flight attendants, pilots, and airline staff were openly begging on social media for action, sharing photos of their first and potentially last flights.
"Flight attendants have been on the front lines of the COVID crisis since the earliest days," said Sara Nelson, president of the Association of Flight Attendants-CWA, AFL-CIO, in a statement sent to the Cut. "We have done our part to keep our economy and our country running through the pandemic. We won broad, bipartisan support for a clean extension of the Payroll Support Program, a proven #WorkersFirst jobs and infrastructure program. Never has there been such widespread agreement, from fiscal conservatives to progressives, in every single state. But Congress has failed to act in time to avoid this furlough cliff."
Airlines were given $25 billion in federal grants to cover payroll during the first round of federal aid in March, and up to $25 billion more in loans for other purposes, but companies still face incredible losses in revenue, with air travel down 70 percent. Thousands of workers have already been furloughed, taken severance buyouts, and entered retirement in attempts to cut costs.
The newly unemployed will now join over 800,000 people who made claims this week, a number only slightly lower than previous records from the summer. United and American Airlines alone have announced that they will be furloughing 32,000 people. "It's devastating," Toni Valentine, a furloughed reservations agent for United in Detroit told NPR. "I have six kids that depend on me." Her benefits, which also cover her sick spouse, might end if she is not called back to work. "I feel like I have failed," she said.
"I feel like I'm being left behind, and there's nothing we can do. It's extremely out of our hands, and we're just sitting around terrified," another flight attendant told NBC News. "I don't have a backup plan. I'm going to be on the unemployment line like so many other people."
Additional aid to airlines was caught up in stalled negotiations over a larger $2.2 trillion stimulus package proposed by the House, between Nancy Pelosi and Treasury Secretary Steven Mnuchin. The White House is now feeling pressure to pass a new round of aid soon, before the November election, so there is some hope that a deal may be reached shortly.
"I just need them to step up," Valentine, the reservations agent, said. "We're out here and we're crying for help, and no one is hearing it."