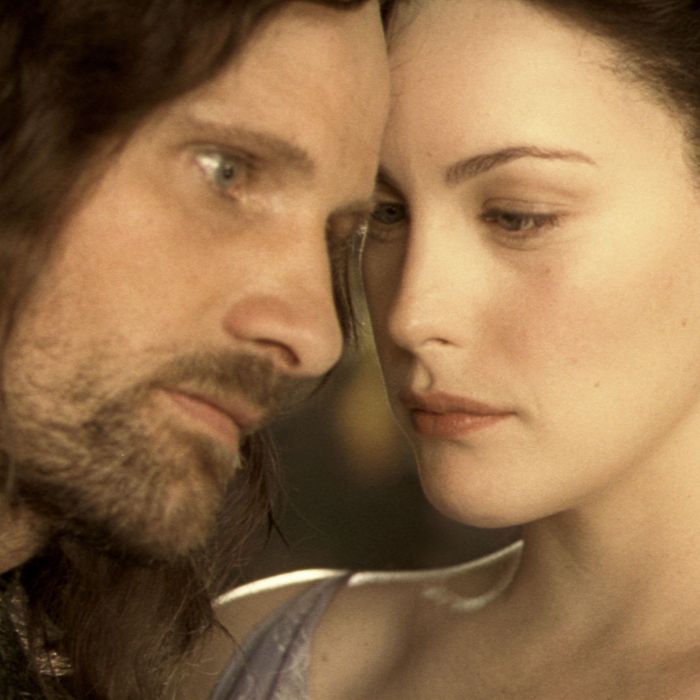 Imagine this but hornier.
Photo: Moviestore/Shutterstock
There is no singular balm that could assuage our collective dread, which has intensified at an alarming rate over the past year. But I can think of one small thing that could efficiently raise many of our spirits — for Amazon's forthcoming Lord of the Rings TV series to feature a sex scene so needlessly raunchy that viewers are left stunned and disoriented.
While it's too early to know for sure, early reporting suggests that meat may, in fact, be back on the menu. According to an in-depth investigation published on the Lord of the Rings fan site TheOneRing.Net, the New Zealand talent agency in charge of casting for the television series has put out an open call for actors who "must be comfortable with nudity." Adding fuel to the speculative fire: Amazon Studios has hired Jennifer Ward-Lealand, a respected intimacy coordinator whose job it is to oversee sex and nudity scenes and ensure that everyone is comfortable during filming. (According to her website, she trained under Ita O'Brien, who did the intimacy coordination for Normal People. Very sexy!) Also, last summer, one of the show's directors said that he couldn't "wait to take audiences around the world to Middle-earth and have them discover the wonders of the Second Age, with a never-before-seen story." A never-before-seen story, you say?
And, while TheOneRing.Net may not be among your most trusted sources for news, the investigation was written by a man named Cliff Quickbeam Broadway, who happens to be an award-winning producer of the feature-length documentary Ringers: Lord of the Fans. I personally trust his intel without question.
Now, as Broadway suggests in his reporting — and as a quick scan of social media confirms — some fans are furious at even the suggestion that the TV series may be a little horny. Perhaps they fear that the potential sex scenes may be as gratuitous as the notoriously gratuitous ones in Game of Thrones, or maybe they simply find nudity to be totally unnecessary. Speaking to the first concern: Surely the hiring of an intimacy coordinator shows that the showrunners are committed to getting things right. And for those worried about the mere inclusion of nudity: As Broadway notes, there is some nudity — albeit, nonsexual — in Tolkien's books.
Beyond that, are we sure that an overwhelmingly erotic Middle Earth experience is such a bad thing? Just imagine an incredibly sweaty orgy between characters who were crucial to many of our sexual awakenings. Make the elves get a little freaky. Allow the hobbits their fun. Give a new meaning to the inscription on the West-door of the Mines of Moria: Speak, friend, and enter.