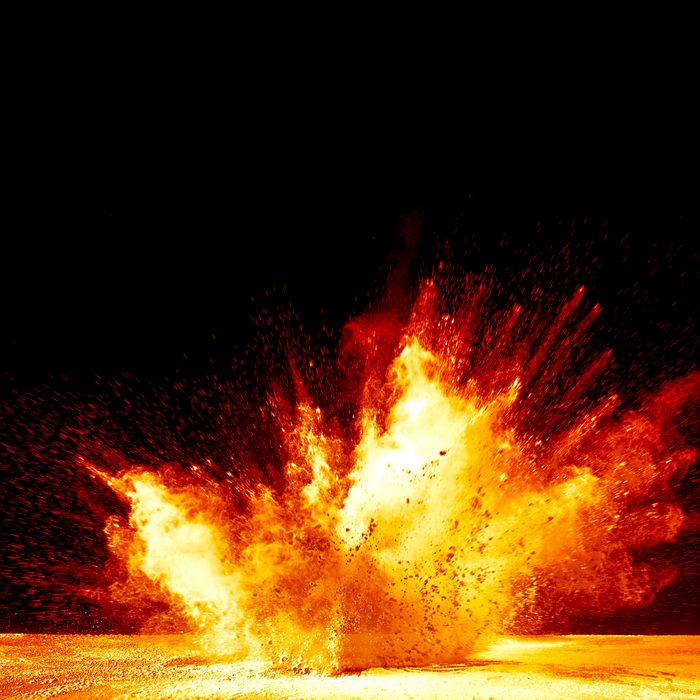 Photo: Jose Antonio Bernat Bacete/Getty Images
My oldest son's first pulmonologist was a man in his 60s with strong grandfatherly vibes. What I remember most was how he pulled up a chair to talk at the conclusion of every examination — even though we saw him every few weeks, even though the internet offered most answers to the general questions we asked. Sometimes my son, then a baby, would be screaming his head off, and still the doctor sat in that chair and told us to ask questions. I'd been seeing doctors for 30 years; never had I witnessed this level of care. All it took, I remember thinking, was a baby's diagnosis with an incurable disease.
I can't remember what prompted the comment — it could have been a number of problems we ran into with insurance that year, the $36 medical equipment we paid $200 for, the series of shots that would cost $6,000 if we failed to convince an insurance company that the doctors meant it when they said our son needed them. Whatever it was, we were talking about medical bills and the American health-care system. "It'll have to burn down completely," the doctor said from his chair, as gray-haired and calm as ever. "I think it'll take something disastrous for health care to function in this country."
He's not my son's doctor anymore, but I have thought of him often this year, as a health crisis descended upon our country like an avalanche. Is the pandemic something like what he meant? Or is it what might happen next — the extinguishment of the Affordable Care Act?
The numbers are so vast they are difficult to comprehend. Twenty million people who have received care through the ACA, which has reduced — but by no means eliminated — racial disparities in coverage. One-hundred million Americans with preexisting conditions, currently protected by the ACA. The 28 million children who, with the implementation of the ACA, escaped lifetime limits on their care. Twenty-eight million kids who are or could become like mine overnight. Kids who needed or might need medications totaling more than $300,000 a year. Kids who, before the ACA, could hit a $1 million limit imposed by an insurer before graduating elementary school.
These numbers and their implications do not seem top of mind for everyone. In the hearings to confirm Supreme Court nominee Amy Coney Barrett that began on Monday, Democrats have spoken frequently about how Barrett's confirmation could imperil the future of the ACA. Republicans have taken a different tack. Republican senator Mike Braun, for example, along with Barrett herself, brought up Barrett's law degree and where it came from as if going to law school in Indiana constituted some kind of radical identity. As if Americans who won't be able to afford insulin — who can't afford insulin now — would be buoyed by a Supreme Court Justice with a degree from Notre Dame instead of Harvard or Yale.
In 2017, the response to the Senate's plan to destroy the ACA was immediate and widespread. That summer, a nonpartisan health-care organization asked permission to use a photo of my son in a full-page ad they planned to take out with 15 other health-care organizations. They were coming out strongly against, the email said, the Senate's health-care plan. I gave them permission, but the ad never ran — so many organizations joined them that no room remained for a photo.
Now, the threat feels just as real to families like mine, but the public outcry seems muted—despite the fact that the very first case Barrett will likely handle in November could determine the fate of the ACA. That same organization has a page of questions for families affected by the disease my son has to consider when voting. The page does not mention specific politicians or lawsuits or Senate hearings that could lead to life-threatening reductions in health care. Instead, a bulleted list proposes asking candidates questions like this one: "Do you support retaining important protections for people with preexisting conditions, such as prohibitions on lifetime or annual coverage caps?" The question is crucial, but I'm less sure about its practical application. Part of me has to laugh: It's so easy for a politician to say sure, yeah, of course, preexisting conditions will be protected. It's so easy, apparently, to make an executive order that means nothing.
Is it that health care shares a crowded stage with the many horrors of Amy Coney Barrett — her accompanying threats to voting rights, to reproductive rights, to gun control, to immigration, to marriage equality, to the climate? Is it because her confirmation looks pretty inevitable? Or, as some have said, is the actual threat to the ACA not all that great? I wish I knew.
When that grandfatherly doctor prompted us to think about flames and smoke and ash and the American health-care system, the way I imagined destruction was limited. I pictured clear and direct threats and massive public attention — much like what we saw in 2017. I did not picture how slow and smoldering destruction might be, or how it might play out over such a dire season. It's possible that what will eventually replace the ACA will be a fairer, less confusing system. But I think the doctor was right. I think we will probably see health care further destroyed before we see it rebuilt again, whether it's this threat or another that does it.