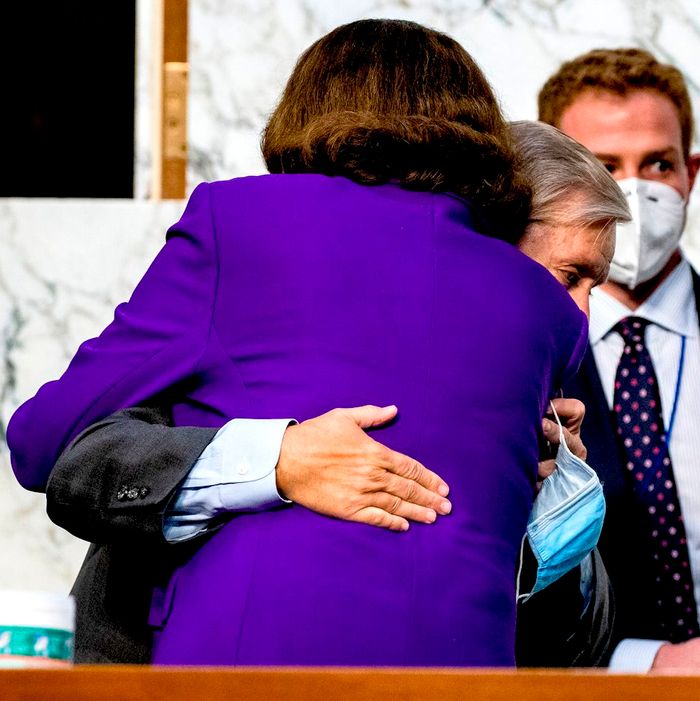 Photo: SAMUEL CORUM/POOL/AFP via Getty Images
Watching the Amy Coney Barrett hearings this week left me almost entirely numb. During the hours of questioning and opining, even the Senate Democrats in the room admitted that nothing would change Barrett's confirmation. "This goose is cooked," Cory Booker said, while noting how rarely his colleagues looked up from their desks as committee members read their prepared remarks.
The mood was dull and dead despite the stakes: Republicans were forcing through yet another Supreme Court nominee, brazenly contradicting themselves, and about to create a conservative supermajority that will shape American lives for decades. I found it nearly impossible to summon an iota of the ire that was so readily available last time around, during the Kavanaugh debacle, probably in large part because of what happened after that: nothing. Kavanaugh sits and rules on the court. So even as Barrett smugly bobbed and weaved around questions regarding her extreme views and troublesome record as senators complimented her politeness, I skipped right to the nothing.
That is, until the very end of the show, when Dianne Feinstein, the ranking Democrat on the Senate Judiciary Committee, got up and hugged Lindsey Graham. She embraced him, maskless, as if they had both just given speeches at a wedding. And before she did that, she thanked him, for leading "one of the best sets of hearings that I've participated in."
There it was, blood-red outrage streaming into my face. In what possible world could a leading Democrat find the proceedings anything but a farce, a joke, an abject failure in which progressives literally acknowledged, as they decried the nomination, that it was a foregone conclusion? The hearings were held despite Democrats' objections to their fairness; they were held in spite of objections that the Capitol itself was unsafe given the coronavirus outbreak stemming from Barrett's nomination ceremony. Inside the committee room, the questions that Barrett did not outright refuse to answer, even the ones that went around on Twitter as "blistering" or "harsh," did nothing to alter the chartered course. They fizzled out as soon as they sparked to life.
Feinstein herself surely had special reason to feel, if not outrage, then shame or even disappointment. In her own opening statement, she invoked Ruth Bader Ginsburg's memory, intoning that in filling her seat "the stakes are extraordinarily high for the American people — both in the short term and for decades to come." She referenced a woman named Christina who was able to get cataract surgery under the ACA, saving her life. She spoke movingly, when challenging Barrett on her anti-choice views, of being a college student in the 1950s at Stanford and seeing how women were put at extreme risk without access to abortion. She put Graham's own words from October 2018 back to him, when he stated that Republicans would wait until the election to confirm another judge if an opening should come.
At the end of all that, Feinstein not only embraced her opposition but felt good about it and told us so. Despite the testimonies of her constituents, despite the "decades to come," despite Christina and her cataract surgery and the women she had seen hurt themselves by trying to self-administer abortions, Feinstein revealed a truth: For her and for a majority of her colleagues, this is a game. They are largely untouched by the threats that Barrett's position on the court poses. Even a pandemic couldn't bring these people, tasked with taking care of us, to disrupt business as usual just for one day. To act with the urgency they say they feel. The worst part is how even the rage feels useless too, in the face of all this fecklessness. And just like that, I feel nothing.