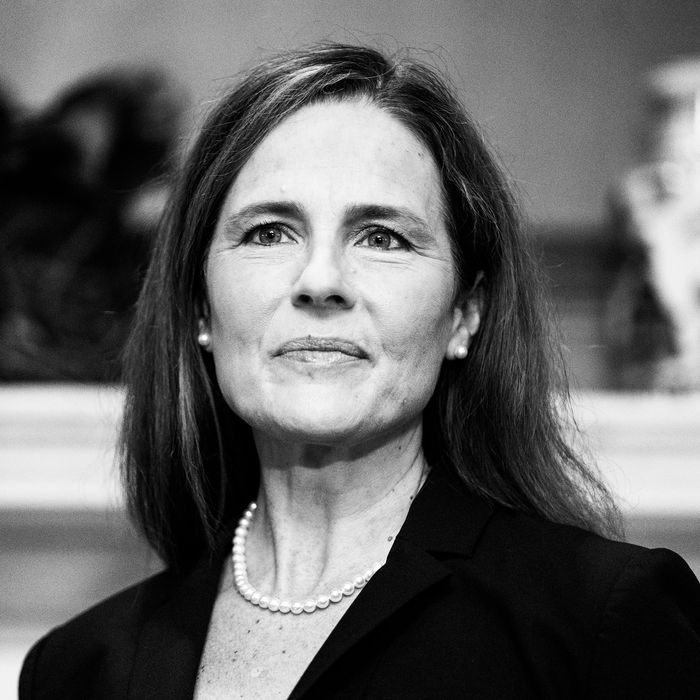 Photo: Jim Lo Scalzo-Pool/Getty Images
As expected, Amy Coney Barrett was confirmed to the Supreme Court by the Senate this evening, voted through by a 52–48 Republican majority. The only party member to vote against her nomination was Susan Collins of Maine. Barrett's confirmation will go down in history as one of the quickest, taking place a mere 30 days after her nomination, and just over a week before the presidential election. Barrett's installment on the Court tips the balance of justices over to a firm conservative majority, and will profoundly influence the shape of American life for decades to come.
Barrett was nominated by Donald Trump on September 26, at a ceremony in the White House Rose Garden that became a super-spreader event for the coronavirus, leading to the infections of dozens of GOP associates, including the president. Last week, after hearings in which Democratic senators voiced their concern about many of Barrett's views, from her record on abortion to racism to climate change, they boycotted the Senate Judiciary Committee vote to send her nomination to the Senate. Democratic committee members instead placed pictures of people on their chairs who they said could be affected by the overturning of the Affordable Care Act. The committee, which also has a Republican majority, voted her through anyway.
Debate continued over the weekend, when senators delivered heated speeches on the floor, each accusing the other party of being responsible for the extreme confirmation process. Majority Leader Mitch McConnell spoke with his back to the Democrats in the room, arguing that Democrats had been the first to manipulate the judicial nomination process all the way back in 1987. He took a personal jab at Minority Leader Chuck Schumer: "I hope our colleague from New York is happy with what he has built," he said. "I hope he is happy with where his ingenuity has gotten the Senate." In response, Schumer called McConnell's speed a "tit-for-tat, convoluted version of history." "The Republican majority is on the precipice of making a colossal and historic mistake," he said.
Barrett is required to take two oaths before she can begin serving on the Court. The last addition to SCOTUS, Brett Kavanaugh, was sworn in by Chief Justice John Roberts just hours after his confirmation. It is likely that Barrett will be sworn in quickly, given that the Court is scheduled to be in session in the next few days, hearing arguments on high-profile cases regarding LGBTQ rights and the future of the Affordable Care Act.
McConnell delivered ominous remarks in his Senate-floor speech about the impact of Barrett's confirmation and her lifetime appointment. "We've made an important contribution to the future of this country," he said. "A lot of what we've done over the last four years will be undone sooner or later by the next election. They won't be able to do much about this for a long time to come."