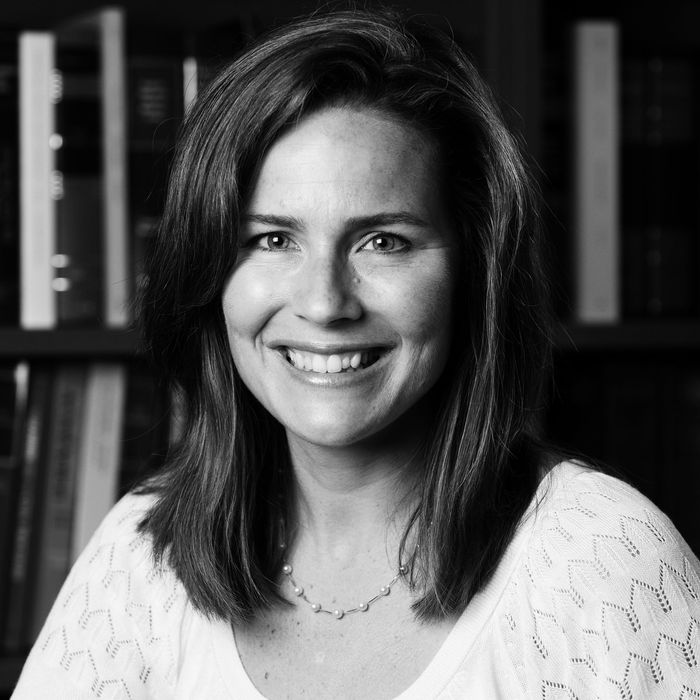 Photo: Matt Cashore/Notre Dame University/Handout via REUTERS
When Justice Ruth Bader Ginsburg's death suddenly left her Supreme Court seat up for grabs, one name rose to the top of the list of Donald Trump's contenders for her replacement: Amy Coney Barrett. On Saturday, September 26, Trump officially confirmed that the rumors were true in an announcement in the White House Rose Garden, nominating Barrett for the Supreme Court.
His choice was immediately controversial, and not only because the nomination ceremony became a superspreader event for COVID-19. Barrett, former Notre Dame law professor, is a 48-year-old appeals court judge who has only served in her position on the Seventh Circuit for three years. This isn't the first time Democrats have raised the alarm on her potential nomination; when she was floated for the Supreme Court in 2018, as a potential replacement for Justice Anthony Kennedy, liberals and organizations on the left decried Barrett as a threat to abortion rights, the Affordable Care Act, gun control, climate regulation, and many other progressive causes based on her legislative history and views as a legal scholar.
But Barrett has a mix of personal characteristics that Republicans see as uniquely appealing: For one thing, as a relatively young woman, she wouldn't be another old white man on the bench. She's also a devout Catholic, which informs not only her conservative viewpoints but how she defends them against critics. Complaints that Barrett is not fit for SCOTUS were quickly lambasted by Senate Republicans during hearings as sexist or anti-Catholic.
Hearings took place as scheduled for Barrett's confirmation, despite Democrats warning that the Capitol is unsafe, given infections stemming from the Rose Garden ceremony. During questioning, Barrett avoided addressing almost all direct inquiries about how some of her past extreme public statements might affect future ruling as a SCOTUS judge. Regardless, Republicans have enough votes to put her through, and barring any unforeseen circumstances, she will be confirmed next Monday.
Here's everything you need to know about Amy Coney Barrett.
Barrett is a devout Catholic with seven children.
Barrett was born and raised in New Orleans. She graduated from Notre Dame Law School, and as a young lawyer, clerked under the extremely conservative Justice Antonin Scalia. According to the New York Times, "She was his favorite." She joined the faculty of Notre Dame Law in 2002, where she taught for 15 years before being appointed to the United States Court of Appeals for the Seventh Circuit in 2017 by Donald Trump. Barrett is a member of the Federalist Society.
Barrett lives in South Bend, Indiana, with her husband, a former federal prosecutor. The couple has seven children, including two adopted from Haiti. She attended the announcement ceremony for her nomination with her family:
Barrett's Catholicism has already become a flashpoint of controversy.
During Barrett's 2017 confirmation hearings for her 7th Circuit position, her identification as an "Orthodox Catholic" became controversial when Democratic Senator Dianne Feinstein said during questioning, "You have a long history of believing that your religious beliefs should prevail," and that "the dogma lives loudly within you." The comments quickly made headlines as Catholic leaders weighed in to call them discriminatory, and accused Feinstein of anti-Catholic bias. Feinstein defended her questioning, saying, "Professor Barrett has argued that a judge's faith should affect how they approach certain cases," including in a 2006 speech in which she stated, "Our legal career is but a means to an end, and … that end is building the kingdom of God." Barrett has also come under fire for her membership in People of Praise, a Catholic Revivalist group that has been called a cult by critics. According to the Washington Post, a 2010 People of Praise directory states that Barrett held the leadership title of "handmaid."
Barrett was asked during her nomination hearing on October 13 by Lindsey Graham, "Can you set aside whatever Catholic beliefs you have regarding any issue before you?" "I can," Barrett replied. "I have done that in my time on the Seventh Circuit. If I stay on the Seventh Circuit, I will continue to do that. If I'm confirmed to the Supreme Court, I will do that still."
Her mentor was Justice Antonin Scalia, a constitutional originalist.
Barrett has spoken at length in public about her admiration for her mentor, conservative justice Antonin Scalia, and how she shares his staunch commitment to constitutional originalism. "I believe Americans of all backgrounds deserve an independent Supreme Court that interprets our Constitution and laws as they are written," she reiterated on the first day of her hearing.
As New York's Eric Levitz writes, for progressives, originalism is not an anodyne concept, nor is it as guided by objectivity as Barrett implies. For critics of Scalia, and now Barrett, originalism is "less a humble method for settling constitutional disputes than a parlor trick for recasting the conservative movement's unpopular agenda as the minimum demanded by constitutionality."
Reproductive-rights groups consider her anti-choice.
"President Donald Trump has nominated a replacement who would gut Justice Ginsburg's legacy and turn back five decades of advancement for reproductive rights," Nancy Northup, President and CEO of the Center for Reproductive Rights, said in a statement shortly after Trump announced Barrett as his nominee. Senator Elizabeth Warren wrote in the Cut that "her position on abortion and other reproductive rights are clear: She believes women cannot be trusted to make decisions about their own bodies."
When Barrett was confirmed to the court of appeals in 2017, NARAL President Ilyse Hogue released a statement saying, "Barrett's record speaks for itself. She is aligned with extreme, anti-choice organizations, and her writings make clear that she believes Roe v. Wade was incorrectly decided." Backing up that assertion, Marjorie Dannenfelser, president of the extreme anti-choice fundraising organization the Susan B. Anthony List, recently told the Times that Barrett is "the perfect combination of brilliant jurist and a woman who brings the argument to the court that is potentially the contrary to the views of the sitting women justices."
In 2015, Barrett signed a letter with Dannenfelser and other prominent anti-choicers affirming the value of "life from conception." Barrett was also critical of the Affordable Care Act's guarantee that employers provide birth control to their employees; in 2012, she signed a letter that called the provision it "morally obtuse" and a "grave infringement on religious liberty." In 2006, she signed an advertisement with her husband that called Roe v. Wade "barbaric."
Many activists point to a 2018 dissent Barrett joined, on a case involving a lower court's ruling on a draconian Indiana abortion law enacted by Vice President Mike Pence when he was governor. The law would have prohibited abortions performed for reasons of race, sex, or disability — allowing medical professionals to refuse abortion care to their patients based on their suspected motives for terminating the pregnancy. The lower court deemed it flatly unconstitutional, violating Roe's precedent that "a woman may terminate her pregnancy prior to viability, and that the State may not prohibit a woman from exercising that right for any reason." The dissent expressed skepticism over this, arguing that certain motivations for abortion are "morally and prudentially debatable" on grounds not covered by Roe.
She did not disclose two talks she gave to anti-choice groups to the Senate Judiciary Committee.
On October 9, CNN reported that Barrett did not disclose in the paperwork she filed to the Senate two talks she gave in 2013 to anti-abortion student groups at Notre Dame. One was an hour-long seminar "for students on changes to law and life for women after Roe v. Wade" called "Being a Woman After Roe." The other was a lecture in front of Jus Vitae, the law school's Right to Life club, on "The Supreme Court's Abortion Jurisprudence." She also failed to disclose a paid advertisement she signed that criticized Roe v. Wade and reaffirmed support for Notre Dame's "commitment to the right to life." After the CNN report was made public, Barrett submitted supplemental material to the Senate Judiciary Committee listing the talks and the ad.
Senate Democrats on the committee subsequently sent a letter inquiring about additional material and called her lack of disclosure "troubling." "These new omissions raise more questions about the reliability of Judge Barrett's SJQ (Senate judiciary questionnaire) and her candor before the Committee," Democrats wrote. "These new omissions also raise serious concerns about Judge Barrett's rushed confirmation process and the hasty process of collecting materials responsive to the SJQ."
Barrett also failed to disclose work on a major case.
NBC reports that Barrett also failed to disclose her work as a lead attorney defending a Pittsburgh steel magnate accused of helping drive a major Pennsylvania hospital system into bankruptcy. Barrett only worked as a practicing attorney in total for around two years, and six months were on that case, per NBC; the questionnaire given to court nominees asks them to name the ten "most significant litigated matters which you personally handled, whether or not you were the attorney of record," and to "describe in detail the nature of your participation." Barrett only listed three cases and did not cite her work involving the steel magnate. It was eventually settled as a civil suit but involved one of the largest nonprofit bankruptcies in American history, at $1.5 billion, which prompted a criminal probe.
Senate Democrats mentioned the case in their letter, asking for "immediate explanation" of missing materials in the paperwork filed by Barrett.
Barrett's critics say her nomination also puts the Affordable Care Act in danger.
Barrett has been castigated by health-care advocates for her opinions on the Affordable Care Act. In a 2017 law review article, Barrett publicly criticized the 2012 SCOTUS decision that upheld Congress's authority to enforce crucial provisions of the Affordable Care Act, writing that "Chief Justice Roberts pushed the Affordable Care Act beyond its plausible meaning to save the statute."
The Supreme Court will hear arguments again on a case regarding the validity of the ACA in November, just after the election. The Court's ruling will determine whether provisions in the ACA can function without its individual mandate — the heart of the law that requires Americans to sign up for health care, which was struck down by a federal court in 2017. Barrett's past statements lead her detractors to expect that she would rule on the conservative side, tipping the balance toward gutting the ACA, either by deeming it entirely unconstitutional or by invalidating some of its provisions (like protections for people with preexisting conditions). Such a ruling would put at least 20 million people at risk of losing their healthcare.
Graham asked Barrett whether she would recuse herself from the ruling on the ACA, given that Trump, who openly wants to dismantle the legislation, appointed her. She declined to answer, saying, "That's not a question that I could answer in the abstract."
She refused to elaborate on her views during her hearing.
When asked by Democratic senators about several of her past public statements, signed letters, speeches, and opinions during in her confirmation hearing, Barrett largely refused to answer. She repeatedly claimed that responding to specifics would amount to "policy" questions that were inappropriate or too abstract for a judge to answer. Regarding the right to abortion, Barrett said she "had no agenda to try to overrule Casey," referring to the 1992 ruling that prohibits states from putting an "undue burden" on someone seeking an abortion, but asked about Roe, she said, "I can't express views on cases. I can't pre-commit." She echoed this refusal to "pre-commit" for several subjects.
Barrett doubled down on this refusal in her responses to written questions submitted by the senators after the live hearings. She declined nearly 40 times to explicitly answer questions like, does she believe systemic racism exists? ("It would be inappropriate for me to offer an opinion on the matter.") Does she agree with the scientific consensus on climate change? (It would be inappropriate "to opine further on any subject of political controversy.") Notably, she also declined to respond when asked if there would be "any constitutional problem" with a state making abortion a capital offense, and thus punishable by the death penalty.
This post has been updated.